CHARLOTTE — When the Panthers turned to Sam Darnold at quarterback a month ago, the mandate was clear.
Be careful with the ball. Don't make mistakes. And Darnold has done that in four games, his first stretch of that many games without a turnover he's had in a season. Also, he was under center when the Panthers broke a franchise record with 570 total yards against the Lions.
Darnold has also made a growing share of plays as the weeks have progressed, and he's actually playing at a fairly high level. It almost sounds like a slight when you say it that way, but when you look at what he's actually done, he's actually been, for lack of a better word, good. "Safe" is a positive, but it's also a little like damning a quarterback with faint praise.
"It's a backhanded compliment," backup quarterback PJ Walker said with a laugh Wednesday at that kind of description of Darnold. "You get people saying, 'Oh he's not going downfield, he's doing this, he's doing that.' But then you break a team record for yards and that kind of thing, so now what?
"How does he win out of this situation? He's being smart with the football, and hasn't turned it over, and he's going out and doing his job and doing it at a high level."
The stats back that assertion up. Since he took over in Week 12, Darnold has completed 54-of-88 passes for 759 yards, with four touchdowns and no interceptions. He has a 104.3 passer rating over those four games.
And when you compare that to what's going on around the league, you see that just calling the guy "safe" is perhaps underselling it. Only four quarterbacks in the league have higher passer ratings since Week 12 (Brock Purdy, Trevor Lawrence, Jared Goff, and Kirk Cousins). So the guys who get recognized for being great, like Pro Bowlers Joe Burrow (101.3), Jalen Hurts (100.4), and Patrick Mahomes (100.1) are trailing him on that chart since he's been back on the field.
Make no mistake, no one is suggesting Darnold's a Pro Bowler, or better than Mahomes or Burrow. And it helps when the Panthers are running the way they are right now (187.3 yards per game over the last four, including a franchise-best 320 last week). But he's actually playing quite well, when you look at it.
"I know Sam's playing at a really high level right now," Panthers center Bradley Bozeman said. "He's doing everything the right way. He's taking care of it; he's communicating out there. The guy's a pro among pros. It's great to have him in there the way he's playing right now. He's doing his thing back there.
"He's doing everything you want your quarterback to do. He does the right thing. He does exactly what he's supposed to do. That's the goal. He's doing that and proving that."
Last week against the Lions, he hit 15-of-22 for 250 yards and a touchdown, and his 121.4 rating was his highest ever as a Panther as well as the third-highest of his career. He also ran for his second touchdown of the year and is the kind of athlete they don't mind pulling it down and running with it (he had five rushing touchdowns in the first four games last season).
To his credit, Darnold isn't the type to point to his own accomplishments or even suggest he's doing anything beyond what he's capable of. He talks a lot about taking things one day at a time in a way that doesn't make for good sound bites. (It's a "safe" press conference, in that regard.)
But he's also confident enough in his own abilities that he's not shrinking from the moment.
In addition to simply not making mistakes, he's made plays downfield in recent weeks, hitting shots to DJ Moore and Terrace Marshall Jr. Even last week, an incomplete pass in the direction of tight end Ian Thomas (Darnold was rolling to his right, and threw back across the middle of the field, after making sure there was no one underneath) shows what he's capable of.
Darnold's not throwing nearly as many passes, but he's averaging 8.6 yards per pass attempt, a career high (it was 6.2 last year, and 6.6 in three years with the Jets).
"I know I can make all the throws on the field," Darnold said Wednesday. "That's not, ... I've never doubted myself in that area.
"You have certain plays, like the post I hit to DJ, or the shots downfield to Terrace, and the one I hit against Denver to DJ, there's a time and a place to force it down the field. But at the end of the day, on first and second down, it's about completions, it's about moving the chains and staying in manageable down and distances.
"Obviously, forcing it downfield is great, and you want to get those chunk plays. But at the same time, if you get someone on a crossing route, and he's hip-to-hip with someone, and it's going to be a bang-bang play at the catch point, and you've got a shallow route, that might be 4 or 5 yards downfield and no one's around him, I'd rather get it to the shallow and have him run for 15, rather than try to force it."
That sounds like a guy who knows his job description is to be careful, but Darnold has progressively made more of the tough throws in recent weeks, and those around him are recognizing it.
"He's built a lot of confidence," interim coach Steve Wilks said. "You can see it. I see it in practice with each period and each rep with the throws that he's making. He's throwing in the traffic. He's throwing guys open. He can press the ball down the field."
"You're seeing some of these balls he's throwing, perfect spot; only our receiver can catch it throws," guard Austin Corbett said. "Really making some great decisions, going through reads, going through progressions, and gaining confidence every single game."
Corbett's known Darnold since they trained together prior to the 2017 NFL Draft back in California. He knows the laid-back persona, and he saw him go to the Jets and take more than his share of shots (the wrong kind). He was sacked 139 times in 54 games in New York, and another 35 in 11 games last year (2.67 per game in his first four years).
Lately, however, Darnold has more time. He's only been sacked six times in his four games (1.5 per game), and the Lions didn't touch him at all last week.
"For us to be able to give him that time to quiet down, to settle down, you can tell he's learned from those previous four years," Corbett said. "It's fun to be able to see him get in there in meaningful games and deliver the way we know he can."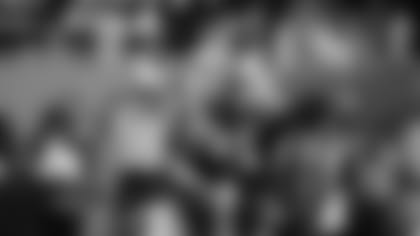 That sounds very matter-of-fact when Corbett says it like that, but "the way he can" was up for debate until he came back to the lineup against the Broncos. Darnold knows that, but he also admitted he does feel a little more comfortable now, whether it's the improved protection, the run game which lowers the bar for him, or something as simple as his sweet Christmas-time beard.
"I feel like the biggest thing is just trusting my eyes," Darnold said. "That's been the biggest key for me these last few games is trusting my eyes. I know when I do that, I'm a good player."
And the last few weeks, no matter the preconceived notions about Darnold, that has been the case, whatever qualifier you want to put on it.
"It's just being smart. It's not being safe; it's more so being smart," Walker said. "We know what type of team we have, we know what this team is based off of, we know what it takes to be successful on offense.
"Turning the football over won't help us as a team. So what's the best way to avoid it? Be smart. He's done a great job of being smart, doing his job at a high level. That's all you can ask for."
View photos from Wednesday's practice as the Panthers get ready to travel to Tampa Bay this weekend.