SPARTANBURG – The observations from Thursday night's practice to kick off training camp really just amount to one major takeaway.
How's his shoulder? Can he get the ball downfield? Will he even be allowed to try?
Newton answered all those questions with a deep strike to wide receiver Curtis Samuel during a team period. The ball traveled about 40 yards through the air and Samuel broke free for the touchdown.
Newton later launched a deep pass to tight end Chris Manhertz, who battled safety Eric Reid for possession of the ball.
"We hit a couple deep balls down the field which were good to see," quarterbacks coach Scott Turner said. "I mean, he's healthy. He's ready to go. I think he looked good today."
Newton, who didn't take part in any drills against the defense during the spring, was involved in every team period. And whenever he was out there, he had no restrictions.
"Whoever is open, he's throwing them the ball," Turner said. "Oh yeah, there's no limitations. He's out here practicing just like any of our other guys."
Especially with what happened last year, it's natural for people to wonder if Newton doing too much too soon. Rest assured, Newton is being monitored closely.
"It's all about making sure we're not overworking him," Turner said. "Today was a normal practice day."
Practice days will look different for Newton as camp wears on. Some days the work will be scaled back. Other days he'll be full-go.
But he sure announced his arrival in style.
"You see him go out and do things that he did today, it's pretty exciting," head coach Ron Rivera said, "and it bodes very well for us."
And now, here are some other practice observations: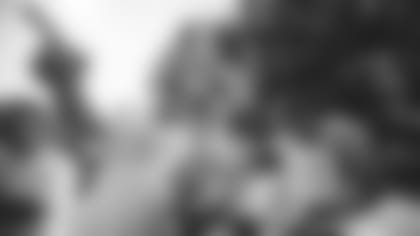 -Owner David Tepper is always up to something. He showed up to practice wearing a Panthers security shirt. Because of course he did. "It's my new job!" Tepper said before practice got underway.
-Here's how the first-team offensive line looked from left to right: Daryl Williams, Greg Van Roten, Matt Paradis, Trai Turner, Taylor Moton. Great to see Williams and Paradis participate in team periods, as both were previously limited coming off season-ending injuries. Second-round pick Greg Little did rotate in with the first team at left tackle.
-The first-team front seven looked like you'd expect it to. In the secondary, Rashaan Gaulden was the free safety and Corn Elder was the nickel.
-Expect the quarterbacks to rotate throughout camp, but rookie Will Grier was first up behind Newton, followed by Kyle Allen and then Taylor Heinicke.
-The play of the day came courtesy of the defense, with Mario Addison and Shaq Thompson combining for a pick-six. Addison tipped Newton's pass at the line and the ball went right to Thompson, who coasted into the end zone.