It was a tale of two seasons for Cam Newton and the Panthers offense in 2018.
Say that to offensive coordinator Norv Turner and he'll stop you right there.
"Some of that's been overblown," Turner said in between meetings on the first day of training camp.
Look, we all saw what happened to Newton's throwing shoulder as last season wore on. By December, he was clearly struggling to push the ball downfield with any effectiveness.
"I'm not concerned about Cam because I know enough about where he's at and what he's been doing," Turner said. "We'll get him to where he was when he was at his best."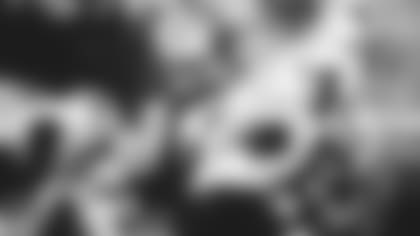 So if Turner isn't concerned about Cam, what is he concerned about?
"This league is about being successful in close games," Turner said. "We're 6-2, we kick a 63-yard field goal to win a game against New York, we win a game in Philadelphia driving the ball the length of the field to win it. We had those same opportunities against Detroit, Seattle, Cleveland.
"The mentality is the bottom fell out and we collapsed. No, we didn't win close games. That has got to drive us this year."
Week 11: A one-point loss at Detroit
Week 12: A three-point loss vs. Seattle
Week 13: A seven-point loss at Tampa Bay
Week 14: A six-point loss at Cleveland
Week 15: A three-point loss vs. New Orleans
Newton went 25-of-30 for 256 yards against the Seahawks. He played brilliantly. Newton was severely hampered against the Saints. The margin of defeat was the same.
The margins are slim in this league. The little things make the difference and separate average teams from playoff teams. For the young guys especially, that lesson is often best learned the hard way.
"We have a lot of guys that are just starting their careers. They have a chance to have really good success, but you don't just flip a switch and have that happen. You earn that," Turner said.
"I think guys have confidence and trust in what we're doing offensively. They know it's about execution. And in my experience, the second year in a system doing things over and over again, you see great development."
---
---
Christian McCaffrey, DJ Moore and Curtis Samuel. Just saying the names gets people excited – and for good reason after what we saw last year.
McCaffrey emerged as one of the best running backs in the league, rushing for 1,098 yards to go along with 107 catches for 867 yards.
"People are going to put more emphasis on slowing Christian down, and if they do, that should open up opportunities for others," Turner said. "We have a very multiple offense. I think Christian will have great production and he'll get his, but he'll also give us an opportunity to spread it around."
Spread it around to playmakers like Moore and Samuel. Both are primed for big-time production in 2019.
"DJ, to me, had a typical rookie year. There were ups and downs, and then the second half I thought it was real strong," Turner said. "I'm really proud of what Curtis did. His training camp was rough. The injuries slowed him. He didn't get up to real good conditioning until the last third of preseason practices. He fought through some difficulty, and sometimes when you do that, it makes things a little bit better. You appreciate it a little more."
Going forward, one of the big questions people have about Moore and Samuel is what position they'll operate out of.
Moore had great success in the slot, posting 26 catches on 30 targets for 313 yards, resulting in a 121.2 QB rating. Samuel was at his best on the outside, posting 31 catches on 48 targets for 398 yards and five touchdowns, resulting in a 125.2 QB rating.
Moore racked up 471 yards when he was lined up outside, with 28 catches coming on 50 targets (67.9 QB rating). Samuel had just eight catches on 16 targets from the slot. (h/t to @JodySmithNFL with the info).
Turner has seen the stats. He knows it has generated conversation. Here's his take:
"Our system has always been about moving people around and they're always going to move around," Turner said. "I see all these different stats about this guy in this spot or that spot – there is not a large enough sample size to make judgements.
"I always tell the players, the more things they do well, the more opportunities they'll have to contribute."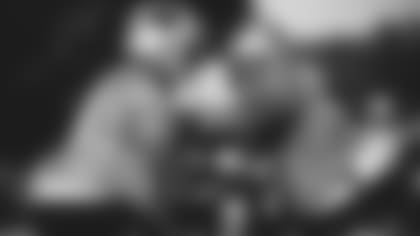 ---
---
It all starts up front. We've all heard it a million times. But it's true. And the Panthers have made moves to make the offensive line deeper and stronger.
A healthy Daryl Williams, who was second-team All-Pro in 2017, is a huge boost. Free agent addition Matt Paradis is one of the league's top centers. And second-round pick Greg Little has the potential to be a long-term answer at left tackle.
"We can become an outstanding offensive line," Turner said "Part of that is having depth, having guys who can step in when needed.
"There are so many things that happen when the QB gets hit or there is a tackle for loss, and people who don't know immediately say it was the offensive line. The offensive line played at a really high level under some difficult circumstances last year. John Matsko does as good a job as any line coach in this league. We were first in the league in average per rush, we were fourth in the league in rushing. Those are things to hang your hat on."
It's true. Carolina's rushing attack was solid throughout the season. Even during the last half of the year, the Panthers still ranked third in the NFL with 5.08 yards per carry.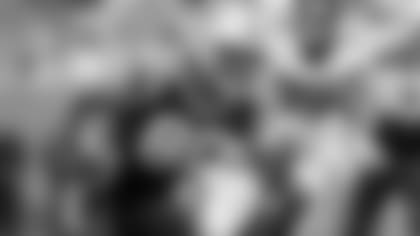 ---
---
The Greg Olsen situation is pretty simple. When he's on the field, he's productive. Always has been.
Turner has said before that it's like having another coach out there in the huddle. So long as that foot holds up, the Panthers know they have one of the most reliable tight ends in football.
And then there's Ian Thomas, the raw fourth-round pick from a year ago. Thomas missed the entire spring while recovering from a knee injury, and some may have forgotten the strides he took late last season.
In the last five games, Thomas recorded 25 catches for 246 yards and two touchdowns. After getting thrown into the fire and finding his way early, Thomas settled in.
"Sometimes it's just about getting more reps so when the look is a little different you know how to react," Turner said. "Ian grew a lot. He's missed the offseason with the knee situation. But we've got six weeks to get him ready.
"We have the ability now to go with two tight ends if we want. We've got Greg and a young guy in Ian who has been in games now and played at a high level."