CHARLOTTE — The Panthers finished their practice week with a Saturday morning full of 11-on-11 work on the field at Bank of America Stadium.
This practice was a lot like Tuesday's session, but this time there were more "live" periods with some tackling. Of course, defenders were instructed to stay off the quarterbacks.
While the first-team defense got in some tackling, they only went against the first-team offense for one series. For the most part, the ones on defense went against the twos on offense, and the threes on offense faced the twos on defense.
"I don't think those guys (on the starting offense) need to get tackled," head coach Matt Rhule said. "They're going to get tackled enough this year."
Overall, Rhule liked the energy and effort in practice, knowing that there are plenty of things his team must correct.
Here are some observations from the session:
— Throughout practice, the Panthers had on the ambient crowd noise slated to play in empty stadiums during the season. The fake crowd gave the day a little more energy but didn't sound very out of place. It was like watching a sporting event from the last month or so on television, just in real life.
— Rhule also had music play between each snap that cut off with 20 seconds left on the play clock, just as it would in the regular season.
"I think the ability to create your own energy this year is going to be a major factor," he said. "I thought that was a good challenge for guys today to see how they did with that."
— Rhule wore a microphone that was tied into the PA system, making it easier for him to communicate with both sidelines at the same time.
— The players did get some work in individual drills before heading to their respective sidelines for the rest of practice. The offensive and defensive lines did a quick run of one-on-one pass-rush drills, too.
— The scrimmage portion of practice started with a kickoff, emulating a real game. Carolina had a scout return team, with Pharoh Cooper as the deep man.
— Rookie defensive end Yetur Gross-Matos started the opening period with a tackle for loss to the defense's right. Then defensive end Brian Burns got into the pocket quick enough for the play to be considered a sack.
— But the defense lost track of wide receiver Ishmael Hyman a couple of times. First, he caught an out on the defense's left for a first down on third-and-long. Then he caught a pass deep down the left side and cruised in for a touchdown. Both times, cornerback Eli Apple was the closest man in coverage.
— Running back Christian McCaffrey was the focal point of the offense on the unit's first drive. He took a few carries and caught a touchdown on the right side, punctuating the score with a spike. Then on a two-point conversion try, quarterback Teddy Bridgewater rolled to his left and connected with wide receiver Robby Anderson .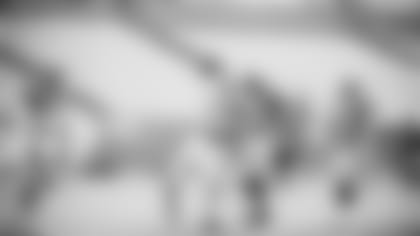 — The first-team defense had to defend two possessions in the red zone for its next period, though some rotated on the defensive line. On the first possession, end Stephen Weatherly "sacked" quarterback P.J. Walker, forcing a field goal. But on the second, quarterback Will Grier connected with wide receiver Brandon Zylstra with a fade on the left side for a touchdown. Cornerback Donte Jackson contested the catch, but couldn't force it out of Zylstra's hands.
Rhule complimented Zylstra for his 2020 training camp performance.
"He's had several good days in a row now," Rhule said. "He's challenging for an opportunity."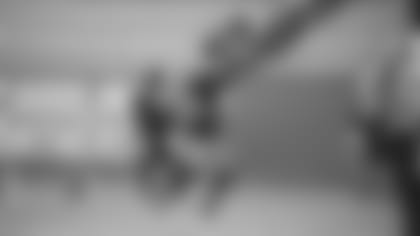 — The first-team offense's next possession began at its 1-yard line. Bridgewater displayed his budding chemistry with wide receiver DJ Moore for a big play down the left side that moved the ball up to the offense's 47. Bridgewater completed an intermediate pass to Anderson, moving the chains again. Bridgewater eventually finished the drive with a touchdown down the right seam to tight end Chris Manhertz.
— During the one period when starters on offense and defense faced each other, Anderson caught a third-down pass to move the chains, but the offense didn't have any more success. Wide receiver Curtis Samuel had a ball go off his hands and chest on a second-and-long. Though the ball hung up in the air for a while, no defender was around to intercept it. On third-and-long, the defensive line collapsed the pocket, and the play was blown dead for a sack.
— After that, some veterans on defense were done for the day and took off their pads. Safety Tre Boston, linebackers Shaq Thompson and Tahir Whitehead, and defensive linemen Burns and Kawann Short were among them. Rhule said they'd gotten in the 18-20 plays coaches wanted to see.
— All of the veterans continued to be actively engaged in practice, though. Boston frequently went on the field to congratulate younger players after they came up with a stop.
— Myles Hartsfield continued his head-turning camp by making plays on both offense and defense. The undrafted rookie defensive back out of Ole Miss picked off a deflected Walker pass midway through practice, returning it down the right sideline. Equipment managers then helped Hartsfield switch from a white to blue practice jersey, and he displayed how well he can run the ball, including rushing for two scores — though one was called back for a hold. Rhule said coaches want to see Hartsfield on both sides right now, though they may focus him at one position sooner than later.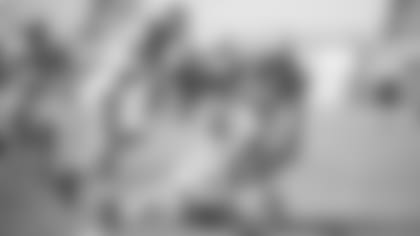 — Punter Joseph Charlton had a nice day, kicking high and with some direction to induce Cooper to signal for a fair catch on the majority of punts.
— The Panthers went through conditioning sprints at the end of the practice. Rhule and the rest of the coaching staff participated, and coaches ended up running four more sprints than most of the players. The veteran defensive players who played limited snaps joined the coaches who ran extra.
— Rhule capped off the day with a special teamers competition. Long snapper J.J. Jansen had to hit the goal post with a snap from the 10-yard line, which he did. Charlton then tried to punt a ball into the upper deck, though he was unsuccessful. But kicker Joey Slye was able to nail a field goal from a long angle on the right sideline to end practice early.
"It's a unique year," Rhule said. "You can't go to the movies. You can't go out to dinner. You can't take your mask off. You can't get a food truck. All those things you normally do at camp, you can't do right now because of COVID. So how do you build chemistry? Thankfully on the field, we're able to do some of those things. So just always trying to find something silly or fun to do with the players."
View photos from Saturday's practice inside Bank of America Stadium.