CHARLOTTE — Pharoh Cooper is a few years removed from his All-Pro/Pro Bowl 2017 season.
Back then, Cooper was the Rams' return specialist. He started that year as the club's kick returner but soon added punt return duties. He then led the league with a 27.4-yard average per kick return, and his 12.5 yards per punt return was second-best.
Cooper looked primed for an encore in 2018 but injured his ankle in Week 1. He was out until Week 11 but was no longer the club's punt returner when he came off injured reserve. He was cut in mid-December.
It was a swift reversal to what had been a promising start to his career.
"It's been frustrating. I think about it sometimes, coming off that second year, I did really well," Cooper said Thursday. "Then my career kinda got tossed in there, tangled up a little bit, and then I got back on my feet."
Since then, Cooper bounced between the Cardinals and Bengals before settling in with Arizona last year. He was effective as a return man in the desert, though he didn't reach the averages he'd put up in L.A.
Now, as he heads into his fifth season, Cooper has a rare chance to play professionally in his home state.
"That was great, going through that whole process of free agency," Cooper said. "(When) my agent talked to me about Carolina, I kind of got excited. It was an opportunity I wanted to take advantage of, being back home where my family could see me."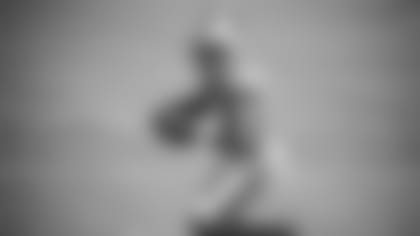 Though he grew up in Havelock, N.C., Cooper admitted he wasn't a Panthers fan growing up. Nevertheless, he's happy his family's much closer than when he was in California and Arizona.
Plus, Cooper had already been living in Charlotte, which made it easy to get together for offseason workouts with quarterback Will Grier and fellow wideout DJ Moore.
"When I signed, me and Will got together at a local high school. D.J. was already in Charlotte, too, so we just linked up, got each other's numbers, and we just started throwing there," Cooper said. "But that was a get-to-know-each-other type of meeting. Through that, we just kept throwing two or three times a week just to build that chemistry and camaraderie with those guys."
As he prepares for the 2020 season, Cooper feels like he has something to prove. He's prepared himself to be the Panthers' primary returner and feels he can bring explosive plays to the role.
"Get the ball back to the offense — whether it be a fair catch or a big 20-yard gain, 50-yard gain," Cooper said. "Have those guys trust me back there, everybody do their job, and we come together as one special teams unit. Just hope to make a lot of plays this year."
But Cooper has always wanted to be more than just a returner. He's listed as a wide receiver, after all. Last year was his first chance to play any semblance of extended offensive snaps, and he caught 25 passes for 243 yards with a touchdown. Back in college at South Carolina, he totaled 138 receptions for 2,163 yards with 18 scores, and 71 carries for 513 yards and four touchdowns in his three seasons.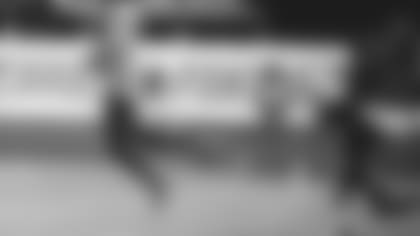 "Anybody in the wide receiver room, they want to go into that season saying, 'Yeah, I'm going to be a wide receiver. I want to make plays. I want to be in on (first) through third down,'" Cooper said. "Punt returner and kick returner is fun, don't get me wrong. But I'm a receiver first.
"Punt return, kick returner I'm good at, and I can do, and I can help the team doing that. But obviously, I do want to be on the field as a receiver making plays, helping the team get up and down the field. When that opportunity comes, I'll take advantage of it whenever that time presents itself."
Based on his camp performance so far, Cooper has a chance to contribute as a receiver in 2020.
"(Offensive coordinator) Joe (Brady) said it to me the other day, he's a guy who's really brought it as a returner, but has done a really nice job as a receiver and he can help us as a receiver," head coach Matt Rhule said. "He can help us (with) runs after the catch. He gets open. He knows the routes. He works really hard. I'm really pleased with Pharoh. He's been one of the guys this camp that's really shown me something."
Whether or not he's a heavy contributor at wideout, Cooper wants to get back to how he played in 2017.
"I know I can get back to that form, being the Pro Bowler, All-Pro type of player returning punts and kicks," Cooper said. "That's the goal for this year if I'm doing that job.
— Linebacker Shaq Thompson did not practice on Thursday with groin tightness. He's considered day-to-day but could be back for Friday's session.
— Rookie defensive tackle Bravvion Roy missed practice with a gastrointestinal issue. Rookie wide receiver Omar Bayless (knee) did not practice, either.
— Rhule said the Panthers cut tight end Andrew Vollert as a corresponding move to sign defensive end Jalen Jelks in part because tight end Temarrick Hemingway (concussion) was back on the field. Hemingway participated in individual drills and some group work, but not the extended 11-on-11 periods.
— The Panthers could consider using running back Christian McCaffrey as a punt returner in certain situations. But it currently isn't in their plans.
"Pharoh Cooper is a Pro Bowl returner that we've got. So we're going to, I think, really exhaust that," Rhule said. "But we are repping Christian, we are repping D.J. at times. And if it's the right situation, if it's a punter that's giving us returnable balls, if the ball's backed up, then I think you'd consider it just a little bit more."
View photos from Thursday's training camp practice.