CHARLOTTE — After an off day Wednesday, the Panthers were back on the field Thursday morning. The session was long but followed more of a standard format than Tuesday, which was almost exclusively 11-on-11 work.
Head coach Matt Rhule said Thursday that the staff brought some new drills and situations to the field, and players had to figure them out. That's one of the consequences of not having an in-person offseason program.
"It's still a little bit of a learning process," Rhule said. "But their work ethic and attention to detail is good, so we can keep giving them new things. I think next week we'll see guys settled down, get really comfortable and sort of take off within the scheme."
Here are some observations from Thursday's practice:
— During the early special teams period, tight ends Ian Thomas, Giovanni Ricci, and Colin Thompson, and wide receiver Brandon Zylstra practiced long snaps. Long snapper JJ Jansen was also out there and performed his usual duties throughout practice, but this year, "The more you can do" is a mantra everyone is following.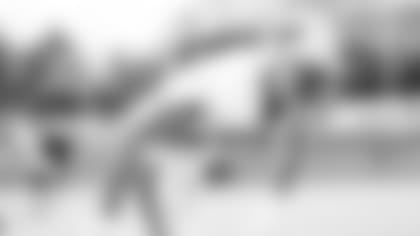 — Linebacker Shaq Thompson worked with an athletic trainer early on and did not participate in practice. Thompson, who left Tuesday's session early, has been experiencing some groin tightness, but it's not considered serious.
— Rookie Jeremy Chinn is listed as a safety, but he's been practicing all over the place just like coaches alluded to all offseason. On Thursday, he took individual drills with the linebackers.
— During individual drills, the defensive line worked on tackling technique with a cylindrical bag. That work is arguably more important than ever since Carolina won't tackle an opponent until Sept. 13.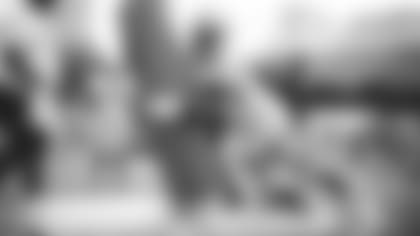 — Among the many significant changes this camp is how players get water during practice. Instead of the usual reusable plastic bottles, each guy receives a small individual-sized bottle of water or Gatorade to prevent sharing.
— Tight end Temarrick Hemingway, who was in the concussion protocol, was back on the field in a green jersey. He participated in individual drills before heading to the stationary bike for the team portions of practice.
— Listed as a defensive back, rookie Myles Hartsfield is also getting reps as a running back. On Tuesday, he ran in a red-zone touchdown. On Thursday, Hartsfield came out wearing the offense's blue jersey instead of the defense's white jersey. Rhule said he likes the versatility the undrafted rookie out of Ole Miss brings, noting it's especially crucial in 2020.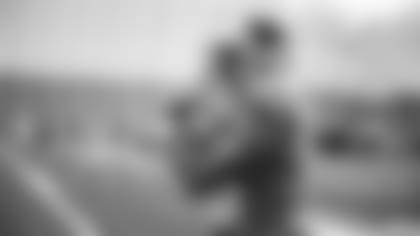 — Running back Christian McCaffrey began one-on-one drills by making a one-armed catch in the end zone from quarterback Teddy Bridgewater. Linebacker Tahir Whitehead did a decent job staying with the elusive McCaffrey. Still, he was able to create enough separation and used his pads to come up with a touchdown grab.
— On the other side of the field, cornerback Corn Elder picked off a pass in one-on-ones and returned it to the opposite end, eliciting some cheers from his fellow defensive backs.
— The defensive line put together a string of wins over the offensive line during one-on-ones, and they were pretty vocal about each victory. Defensive end Stephen Weatherly put a spin move on tackle Greg Little to get into the backfield. Rookies Derrick Brown and Myles Adams then won their reps, driving the offensive linemen into the backfield. Defensive tackle Bruce Hector then got in on the action with a bull rush. Offensive tackle Aaron Monteiro stopped the D-line's winning streak by stalemating rookie defensive end Yetur Gross-Matos.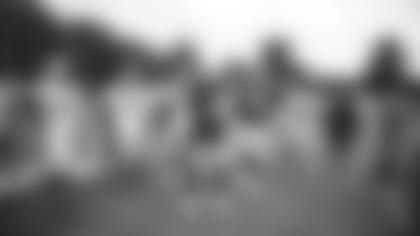 — Wide receiver Pharoh Cooper caught a pass deep down the right sideline from quarterback Will Grier for what would have been a touchdown in half-field drills. Known more for his return skills, Cooper is hoping to carve out a role at wideout.
— The Panthers had a move-the-ball period, running a play on second down that would set up third down. For three consecutive turns, the offense went backward and had to convert a third-and-long. This occurred for both the starters and reserves on offense. The first-team unit got past the sticks with a pass over the middle from Bridgewater to wide receiver Robbie Anderson. The reserves converted with a connection from Grier to wideout Seth Roberts. Then the starters converted another third-and-long when Bridgewater found tight end Ian Thomas in the seam. The odd string of similar results ended when quarterback PJ Walker had a third-down incompletion on the left side. The entire offensive unit — including coaches — ended the period doing push-ups.
— The final 11-on-11 period was another move-the-ball drill, this time with starters against reserves. McCaffrey had a few solid runs to move the chains. Bridgewater and wideout DJ Moore also connected on arguably the play of the day, with Moore jumping up to make a catch in traffic down the seam for a chunk gain.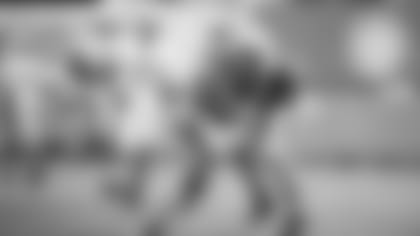 — But the first-team offense's possession came to an end when running back Mike Davis fumbled on a carry toward the red zone, which the defense recovered. Linebacker Jordan Kunaszyk punched the ball out and landed on top of it. Fumbles were a problem for the offense on Tuesday, too.
View photos from Thursday's training camp practice.