SPARTANBURG – Running back Christian McCaffrey takes a handoff midway through Monday's steamy padded practice, cuts through the line and glides into the secondary.
As is typical for McCaffrey, he finishes the rep by kicking it into high gear when he spots cornerback James Bradberry coming from the side in pursuit.
What McCaffrey doesn't know is there's another defender chasing him down from behind: 6-foot-3, 258-pound edge rusher Bruce Irvin.
Just before the whistle is about to blow, Irvin reaches McCaffrey about 40 yards downfield and punches at the ball. He makes direct contact and the ball comes loose. Defensive coaches and teammates roar in approval. Irvin scoops it up and runs back the other way grinning.
How's that for effort from the 31-year-old?
"It's about putting it on tape and letting guys see an eight-year vet running 40 yards to go get the ball," Irvin said. "That kind of stuff rubs off."
Really, Carolina's entire defensive front is rubbing off on one another. Veteran newcomers Gerald McCoy and Irvin have seemingly formed instant chemistry with longtime Panthers Kawann Short and Mario Addison. Young guns like Brian Burns, Christian Miller and Marquis Haynes are eager to learn, and linebackers Luke Kuechly and Shaq Thompson bring it all together with their ability to direct traffic and diagnose plays.
All the talent in this 3-4 scheme feels familiar to Irvin. It reminds him of his days with the Seahawks.
"I'm not just blowing smoke, there are a lot of similar traits here to the front we had in Seattle for those four years I was there," Irvin said.
The Seahawks allowed the fewest points per game in each of those four seasons (2012-15) and they won it all in 2013. They were known for relentlessly pressuring the quarterback, and that's the Panthers' primary objective on defense heading into 2019.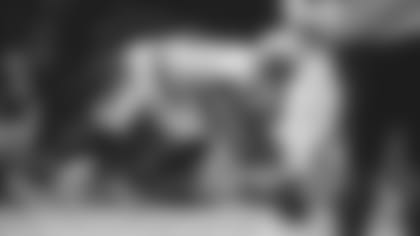 "We can get after the quarterback. When you bring it all together and everyone plays for one another, it becomes a scary group," Irvin said.
"We got a bunch of guys who have done great things in this league. A lot of knowledge. It's a great scheme. I have a voice as one of the older guys. Coach Rivera lets the older guys control their rooms and I can just be myself. I can talk (expletive) and be myself. That's my game."
It seems people around the league aren't quite sure what to expect from Irvin, who is entering his eighth year with 44 sacks and 15 forced fumbles on his resume.
His 2018 campaign leads to some questions. Does he have enough juice left? Can he still be counted on as a consistent disruptor?
He started the season with the Raiders, but that wasn't a good fit. Irvin's playing time kept getting reduced until he was finally released after recording 3.0 sacks in eight games. He spent the second half of the year with the Falcons, and while the fit in Atlanta was much better and he posted another 3.5 sacks, he found himself looking for a new team this offseason.
In his mind, Carolina was the perfect fit. And that's revealing itself more with each passing day at training camp.
"I know people aren't really mentioning my name. I've been written off before," Irvin said. "As long as my teammates have my respect and they know I'm putting it out here for them, that's all that matters to me.
"This is a great situation for me, a great environment. This team is really coming together."