CHARLOTTE — When I was a kid growing up in suburban Hickory, I distinctly recall hearing people call radio stations with requests for "Free Bird" and "School's Out" every June. That was when telephones and radio stations were things people used, and the lack of streaming music options meant you heard a lot of Lynyrd Skynyrd and Alice Cooper anyway, including on the boom box somebody smuggled onto bus 22.
(Sometimes, technology is a good thing, and newer things can be better. Don't hold me to that, though.)
That's a long way of saying; the end of Panthers minicamp always has a distinctly last-day-of-school vibe, and now we're headed into summer break. By the time they gather again in July, things may change, but as we mentioned yesterday, a lot of the work they've done so far has been positive.
It's also been a long offseason, and seeing people pack up in a rush yesterday afternoon to split for a few weeks reminds you that everybody needs a little break.
But football never truly stops, and people never run out of questions. (Also, congratulations basketball, on your week of solo coverage from the end of Game 6 last night to the NBA Draft next Thursday night.) I can tell we're going to have to have more mailbags between now and the start of training camp, because there's plenty to discuss.
----------------------------------------------------------
Hi Darin, I enjoy reading your column (faithfully), although I have never submitted a question. I am taking the plunge! The Panthers have made a lot of great additions to the offensive line during the offseason. How many offensive linemen do you see the Panthers keeping on the final roster? I am wondering if there will be room on the roster to keep Cade Mays, Deonte Brown, Dennis Daley, and Michael Jordan, although I am excited about the depth each can provide. Is there too much O-line talent on the roster this year to keep them all? — Deidre, Tega Cay, SC
Deidre just made her ATOG debut by blowing all of our minds. She just asked if the Panthers had too many offensive linemen. Roll that around in your head for a second. Sorry, I need a moment.
(Deep breath, sip of cool water.)
Actually, that's kind of a thing, and it will be one of the more fascinating positions to watch in training camp. In terms of numbers, nine is probably what they'd carry into the regular season, unless they go short somewhere else to keep another one.
Jordan started 10 games last year after being claimed on waivers, and his size and strength make him competitive for a guard job. Brown is a huge and powerful player as well, and Alabama ran the ball well behind him when he played. He didn't get much run here last year, but his tape against the Bucs was good.
Cameron Erving's also in the mix, as he's a capable swing tackle, and the kind of veteran it's good to have around. But he and Daley could be fighting for one job. Daley intrigues coaches with his talent, though he's lacked consistency.
Mays helps himself by being able to do a lot of stuff, in terms of playing guard or center. He's got some Geoff Hangartner in him in that way, and he has earned notice this spring. We'll know more when the pads go on in about five weeks, but he's made a good first impression.
Speaking of Hangartner, it's reasonable to say it's been a decade, since the early 2010s and the heyday of the Jordan Gross/Travelle Wharton/Ryan Kalil/Hangartner/Byron Bell line that they've been this stable and good up front. They've had strong interiors since then (Trai Turner, Andrew Norwell, Kalil during the 2015 Super Bowl run), but never this much actual NFL talent across the line.
It's kind of weird to say out loud.
And for making our brains explode, throwing a cannonball on her first dive into the pool, and for setting the stage for future appearances, we're making Deidre our Friend Of The Mailbag this week, and will get the merch on the way to her soon.
(Speaking of merch, a new shipment just arrived, so all of you cool kids will have something sweet to wear to the pool to impress your neighbors soon. As soon as I get it in the mail.)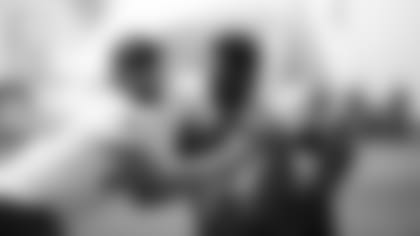 ----------------------------------------------------------
Please save my sanity by telling me that Big Ickey was drafted to play tackle and not guard. There's no way you draft a guy that high and play him inside. I was just concerned with Matt Rhule's comments saying that Brady Christensen is one of the team's best players when last year it was the case of him having short arms and not seeing the starting lineup much. Also, will the Panthers sign a free agent defensive lineman prior to training camp or wait until cuts happen for depth?
On a side note, excited to announce my family and I are leaving the west coast and moving to North Carolina next year! Go Panthers! — Jeff, Henderson, NV
Because there's nothing I value more than your sanity, I assure you that Ickey was drafted to play left tackle.
And when people parse the Twitter versions of long coach comments, sometimes they lose sight of the fact that two things can be true at once. Yeah, Christensen deserves a spot. And it's likely going to be right next to Ekwonu, but a little to his right. They're still working on the whens, but the what seems inevitable. As you mentioned, they didn't take the top player on their draft board to play a less-valuable position.
The reason teams make aggressive runs to draft left tackles and defensive ends and quarterbacks and cornerbacks at the top of the first round is the gulf between the cheapness of rookie deals, and the very expensiveness of what it costs to buy an impact veteran at those positions in free agency. In terms of roster construction and value, if you can get elite play there at rookie rates, it's a huge win.
As for defensive linemen, they're going to continue to look. Carlos Dunlap was here this week for a visit, and is still an option (old heads like Dunlap consider other factors besides just money when they're deciding where to play). They could also use some depth inside. Matt Ioannidis was a good add to put next to Derrick Brown, but with Daviyon Nixon still on the mend from a knee injury, they could use another defensive tackle as well.
Also, great to hear you're coming to join us, Jeff. You have been a valued member of our Mailbag community, you are truly one of us. I'm sure you will come to the Carolinas, be nice to your neighbors, keep your lawn looking good, and help other people. That's how we roll.
----------------------------------------------------------
Hey Darin, I've seen some of these stories of Sam Mills that y'all have been posting from fans. I'm too young to have met him personally, but surely an old guy like yourself has some stories to tell. What's your favorite Sam Mills story? — James, Sumter, S.C.
This may sound like a dorky reporter answer, but my stories aren't as important as other people's stories I get to tell. And I'm absolutely sincere when I say one of my favorite parts of this job is the reaction I get from people when they get a chance to relay a story they really want to tell. You see their eyes light up. They sit a little straighter in their chair, their voice changes tone. It brings out the best in people to expound on something they're passionate about.
And everybody who knew Sam Mills has a Sam Mills story they want to tell. We've got stuff coming up from NFL head coaches and GMs, to former co-workers here and in other places. Looking forward to sharing a lot of it.
But I'm also selfish; I want all the stories. So the fans out there who have their own memories of how the soon-to-be Hall of Fame linebacker touched their lives (either personally or as an inspiration) can send them in through this link, and we'll run the best of them between now and the enshrinement ceremony in August.
----------------------------------------------------------
As a Panthers fan since 1994, I really don't want to get my hopes up too high as the season hasn't got underway yet, but I like what we did in the draft finally taking care of the O-Line, and other areas, and in free agency. It does give us fans an optimistic look going into this season. However, I am still not sure that Sam Darnold will be the QB we are hoping for; what is your take on Matt Corral? It looks like to me our season will rely on the number one position, QB. So, I am hoping for a very successful season. Go Panthers, Keep on Pounding. — Kenneth, (Undisclosed location abroad)
One of these days Kenneth is going to tell me where he actually lives, because this isn't his first email. Unless he's a spy, I guess.
His larger point is one that we've touched on, the roster improvement is tangible, but the uncertainty at quarterback is also real.
This is another one of those cases in which multiple things can be true at once. They can still be looking around, and also be encouraged about the way Darnold is performing this spring. He has been better. I wouldn't say it if it wasn't true. But track records are what they are, so reservations are also understandable.
As for Corral, I think a perfect situation might be him not playing a lot at first, whether that's because Darnold or someone else is playing well. It takes a special rookie quarterback to jump into the NFL and not get swamped. It's more complicated than college football, and faster, and when you're still learning how to get in and out of a huddle, that's a bad combination. But he can throw it, and as Rhule said Thursday, all the stuff that happens after the snap has been good. Learning all the stuff before the snap takes time.
----------------------------------------------------------
Why don't the Panthers spend the money on a decent quarterback? Even I know that you get what you pay for! — Donnie, Dallas, NC
Great quarterbacks are really expensive, but that's not really the problem. They're not always all that available. So unless you're talking about Tom Brady coming here as a free agent in 2023, it's hard to know the immediate answer.
Recent history suggests that if they had the chance to get a really good one, they wouldn't mind spending the money. The trick is finding the right one, and they don't become free agents all that often. And there are a lot of fairly mediocre quarterbacks making $30 million a year or more, so it's a tricky business to be in, and you can't afford to be wrong.
For whatever you want to say about their pursuit of the position, it's certainly not from a lack of effort.
If Corral develops into something (possible), that would be the best of both worlds, since he's cheap for the next four years. As general manager Scott Fitterer knows from his days with the Seahawks, that allows you to have a lot of other stuff too.
----------------------------------------------------------
While I'm tempted to ask if there's any chance of black helmets after the other NFC South team made their announcement this week, I know those questions are reserved for @panthersbill.
So let's talk about Hall of Honor? Can you provide a teaser if we can expect any new names added this year? If so, any thoughts on who makes it? — Dan, Venetia, PA
The Saints did unveil a black helmet this week, and it was certainly a black helmet. I'll leave it at that to be nice.
All I can tell you on Hall of Honor is that when the team announced the last class (Steve Smith Sr., Jake Delhomme, Jordan Gross, Wesley Walls), it was in early May. Putting together a celebration of that magnitude takes more than a couple of days to plan, so my suspicion is that if it hasn't happened by now, it might not this year.
There are certainly a number of players deserving. The question is going to be the order they come in. Names such as Julius Peppers, Ryan Kalil, Muhsin Muhammad, and Luke Kuechly spring to mind, but there are more I could name (and a few more coming the next few years, since the team settled on a three years from retirement eligibility requirement).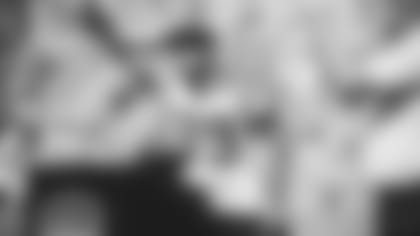 ----------------------------------------------------------
As a Panthers fan on a self-imposed exile from the homeland in North Texas, I want to start off by saying as bad as the Charlotte heatwave is right now, I can assure y'all have it easier (we might reach triple digits before July). My question this week is about Jeremy Chinn and how we use him. As a rookie, he was all over the field, and as a result was an absolute terror. The sports radio guys here in my neck of the woods compared his use to how Micah Parsons got used by the Cowboys, but the difference is the Dallas team seems ready to double down on Parsons as a do-it-all guy, whereas we've buried Chinn in the deep game. What's the reasoning, and what's the path forward to reclaim that rookie season magic? — Nate, Grand Prairie, TX
I swear, you could be standing on the surface of the Sun, and Darth Vader would walk by and say, "Well, on Mustafar where I've been hanging, it's a lot hotter." Everybody's got to be a topper. Hot is hot. At least we don't have to share the roads with cattle.
Sorry, where were we? Oh, Jeremy Chinn and Micah Parsons, and multifaceted football players.
Parsons is a different cat, and it's easier to do some of the stuff he does at 245 pounds than for Chinn to do it at 220. Attrition would be a real problem if someone as narrow as Chinn (though he's not small) spent too much time in the box.
At his size, a sensible path forward would be to make him an impact safety. His uncle, Hall of Famer Steve Atwater was one of those, and agrees.
Just as with quarterbacks, the game changes from college to the pros, and Chinn was sort of re-learning the secondary last year. Getting to work with a coach the caliber of Steve Wilks this year should help.
They're always going to move Jeremy around and do different things because he's capable of them. But I expect he's going to make more plays this year, if only because of his increased familiarity with the role.
----------------------------------------------------------
Let's go lightning round to close it out this weekend:
Maybe I've missed it, but I rarely see stories about the running back group. If you get a chance, I would love to see you explore that in an upcoming article highlighting personalities, skill sets, leadership, coaches, and whatever. In the meantime, what's your early read on these guys? Speaking of leadership, I really liked the vets in coaching mode this week during minicamp and can imagine a pumped-up room with CMC at the helm. — Randall, Old Fort, NC
It's an interesting room, lot of talent. With Foreman around, not sure how much Chuba Hubbard will be able to do, but as always, the goal is to have McCaffrey carry it more and coach it less.
Who was the real MVP of the Panthers Games? — Will, Rock Hill, SC
I loved the field day atmosphere they created, where players drafted teams and went against each other in events from pickleball to table tennis. Brought out the true competitors. McCaffrey is such a weirdo, he's probably still carrying his paddle, looking for someone to challenge him to a game. He's just wired differently.
But I love the job team captain Johnny Hekker did drafting his championship team. It's one thing to be good at golf or shooting baskets, but it takes wisdom to be able to put together a complete team, bringing people with different skill sets together to create a greater whole. Respect to Hekker, who will doubtless treasure that big gold trophy as much as his NFL All-Decade Team award.
First off love reading the "Ask the Old Guy." I have sat in several sections at the stadium before becoming a PSL owner. Question is, what area of the stadium do you like sitting in the most during game day? Stop by Section 201 during a game to say hello. Sitting behind the goal post gave me a different perspective of the game. Next question is, who are you most excited to see this year? Rookie, second-year player, or other? Mine other than the obvious ( Jaycee Horn and Ikem Ekwonu) would be Yetur Gross-Matos. He needs to have a big year. — Craig, Mocksville, NC
You're right about Yetur needing a big year. They also need him to be big. Of course, if Dunlap shows up, that could be a win-win for both. I'm interested to see how Horn plays. I think he has the makings to become a major star. In his limited time last year, he was already becoming "that guy" that opponents just don't throw at.
As for my favorite seat — the press box, of course. There aren't many places in the league with this kind of view from the 50-yard line and below the upper deck, and I don't take it for granted. Also, that's where my people are. Who doesn't love being surrounded by people who are smart and funny and passionate about their work? Also, we have ice cream.
Speaking of ice cream, it's summer break. Let's go have some. And maybe listen to some different music because we can.