CHARLOTTE — Minicamp was over – another high-energy day of practice for a new team – and it was time for a break.
But before they left, there was some wisdom Thomas Davis had to impart, and it wasn't just in what he told the team when head coach Frank Reich invited him to speak to the final huddle of June moments earlier.
No, it was several minutes after Davis was done talking when an old friend stopped by for a few words.
"Are you going to do the push-ups?" Davis asked, somewhat incredulously, to linebacker Shaq Thompson when Thompson came over to greet his former teammate.
See, Thompson had dropped a chance at an interception in practice that afternoon, and the traditional penalty for such an infraction on the field was a set of push-ups, a reminder of a missed opportunity to change a game.
Thompson protested briefly, saying the pass was tipped, hoping to get out on a technicality.
Davis just looked at him like he'd look at one of his children (Thompson was once his baby, after all), held his arms out with the palms up, and said: "Is the standard still the standard, or not?"
Thompson promptly dropped and gave him 10.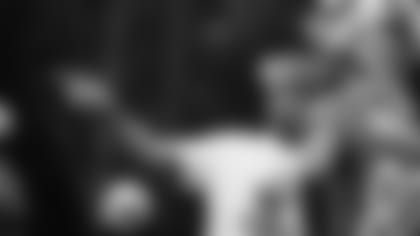 It's a little thing, but it's the kind of thing that's happening fairly often since Reich took over, as he's made a point to bring the team's former players to practice, to events, to talk to his team.
Steve Smith Sr. has been there a number of days this spring and was out there coaching up tryout receivers during rookie minicamp, and talking to young wideouts such as Terrace Marshall Jr. and Jonathan Mingo during and after practices. Luke Kuechly is around often enough the novelty has almost worn off (until players look over and realize, "That's Luke Kuechly"). Jake Delhomme stops by when he's in town and also talked to the team earlier this offseason. Hey, look, over there's Jonathan Stewart. Is that Mike Rucker? Davis comes by routinely.
"It's a big deal," Reich said on the final day of the minicamp. "I mean, you guys know Thomas. My goodness, the guy's incredible, so he comes out there. And he just reminded us of the standard.
"Like he reminded us today, the standard that has been set here, before he got here, the standard they set, and it's really on us as a team, players, and coaches to kind of get the Panthers back to that status of where we want to be. That's our responsibility."
But Davis' words (and his actions, as he gently scolded his former protege) were only part of what the Panthers have gotten this spring. There's been a deliberate effort to tap into some of the team's former players, reminders of the good stuff that's happened here in the past.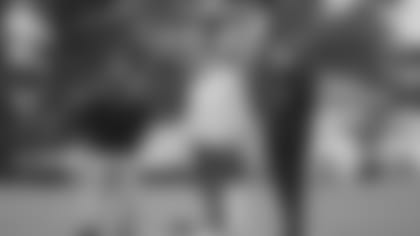 The locker room now includes a number of large photos of Panthers greats, from Hall of Famer Sam Mills on the back wall to the photos of Davis, Kuechly, Julius Peppers, Smith, Delhomme, Greg Olsen, and Jordan Gross scattered throughout the room (which is now organized by position, so current players have those guardian angels looking over their shoulders on a daily basis).
Turn the corner by the team meeting room, and there are images of Wesley Walls, Muhsin Muhammad, Ryan Kalil, Stewart, Charles Johnson, and more on the walls, with more to come. It's intentional on the part of Reich and his staff, and calling back to the past makes sense for a guy who was the inaugural Panthers' first starting quarterback in 1995.
But it's also part of a larger organizational effort, as former NFL wideout Jeremy Kelley was hired this offseason as the team's director of legends affairs. Kelley started in March and has been involved with incorporating former players in a number of ways and into a number of events.
From Delhomme and Kuechly hosting the team's draft party, with a number of those other names in attendance along with Sherrod Martin, James Anderson, and Mike Tolbert, there was a huge contingent on hand the night the team drafted quarterback Bryce Young.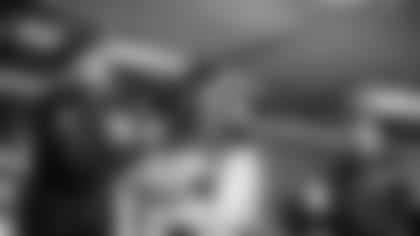 They've also brought in former players for the Keep Pounding Day service projects, to run in the Keep Pounding 5K race and help coach the local girls' high school flag football tournament, and hosted a virtual State of the Panthers call with team officials and a number of those aforementioned legends along with players including Brad Hoover and Al Wallace.
"We want to get these guys in the building; we want them to feel that sense of inclusion," Kelley said. "It just reinforces that as Panthers players, when you see these guys here and at some of these events, that they're part of the culture and that they're going to be taken care of."
And it's not just players of recent vintage.
One day during OTAs, former Panthers receiver and receivers coach Ricky Proehl was there. His son Austin had tried out during the rookie minicamp, but the elder Proehl wasn't around for that one. He came to a fairly routine practice in early June, taking a break from coaching in the XFL, and Reich asked him to speak to the team after practice as well. He shared some of his memories from his three years as a player (he was a key part of the first Super Bowl team) and five years as an assistant coach (where he was part of the second one), and talked to a bunch of guys half his age (or more) about his journey.
"For me, it's, first of all, it's a special place," the 55-year-old Proehl said of coming back.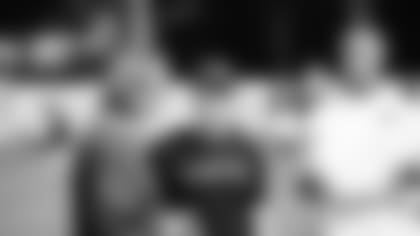 He's known Reich for years, so it felt natural for him to stop by. He recalled during his years with the Rams when former coach Dick Vermeil would have some of his former Eagles players come to talk to the team. So he was happy to share with a younger generation.
"I think you get a different perspective," Proehl said. "When you're playing, you kind of get lost in some of your success. Some of you're just being in it, right? It's kind of like when your kids are growing up, and they can't wait to graduate high school. It's like, these are the best years, you know? So I've put it in perspective for these guys. Because that's what you get when you play for 17 years; you play when you're young, and you play when you're middle-aged, and I was fortunate to play when I was old. So I got to see the whole evolution. And now, being out. Just being able to compete, and walk out of that tunnel, was something I never took for granted. I think it's important when you've got players that have come back, especially for me that played here, coached here. So there's something in common, right?
"I think it's people that played. Frank gets it, and that's what makes him a great coach. Because he's surrounded by people that have played and coached at a high level, it's like me running my business. I learned from playing that I need to surround myself with people smarter than me. I think that's important. And we've talked about that too. I mean, with so many former players on this staff, and from having coached, it's just a different perspective."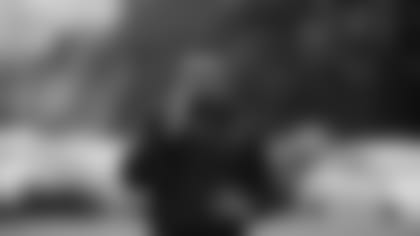 And Davis doesn't mind coming around and sharing a few words or demanding a few push-ups.
When that comes from a former Walter Payton NFL Man of the Year and a guy who overcame three torn ACLs and played in a Super Bowl with a broken arm, it resonates. When receivers are getting tips from a guy who's eighth all-time in receiving yards, it hits different.
"For me, it's easy," Davis said. "Like, I feel like as a player, I gave everything that I had to the game. And I can take solace in knowing that I can stand in front of a group of men and share my thoughts or my opinion and not have to question if it's coming from a genuine place."
Davis said he called Reich when he got the job in January. The two had known each other, going back to conversations during competition committee meetings, so the relationship was an easy one. And for Davis, coming here and being a part of things now feels as natural as talking to another former player.
"I definitely feel like guys are going to embrace that," Davis said. "And coach understands. He's a former player here. So he knows what the history is like. He knows what it's like to bring former guys back to be around the younger generation."