CHARLOTTE — When you've been The Guy at quarterback for most of your life, becoming a backup is an adjustment.
Will Grier experienced the challenge in 2019. A third-round pick out of West Virginia, Grier had to get used to sitting and waiting for his name to be called instead of preparing to actually start each week. As he knows now, the key is to approach each day as if the opponent is yourself. "Me against me," Grier termed it.
And that's where he admits he failed miserably last year.
"I mean, (I was) straight up was bad at being a backup," Grier said Saturday.
Grier didn't want to use the word overwhelmed, but he acknowledged he didn't do a good enough job acclimating to the pro level. As he said, any quarterback can go from third-string to starting quickly.
"I didn't really understand that," Grier said. "That's part of the experience and part of my personal journey and growth and career, and I think I'm glad it happened. I'm glad I got the experience. It made me better. I think that was maybe their goal of it last year, was to challenge me and make me better."
Grier started the final two games of Carolina's 2019 season with poor results. He went 28-of-52 for 228 yards with no touchdowns and four interceptions. He was also sacked six times and fumbled once.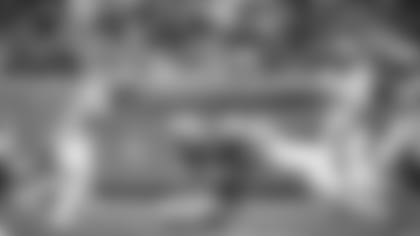 Displeased with his play, Grier felt like he needed to get back to the fundamentals of being a quarterback. So he worked with his father, Providence Day coach Chad Grier, to reset himself heading into his second season. Given that the pandemic restricted workouts, he had to get creative.
"I needed work in all aspects of my game," Grier said. "I got a net in my small backyard and was just working accuracy some days. I made a makeshift weight room at my house. I was just finding ways to push myself and figure out a way to get better during that time.
"It's not ideal, but also, there's no excuses in this game."
Pairing his offseason work with in-season experience, Grier now feels more prepared to excel at the pro level. The game has slowed down for him, and offensive coordinator Joe Brady's scheme has been easier to learn.
"I feel more confident," Grier said. "I went into this year knowing the important things to learn the offense fast and go out there and be comfortable in practice. (I) picked it up a lot faster. I was better at preparing this year than I was last year in that aspect, which helps you play faster and see the field. Everything is kind of a ripple effect."
In some ways, that might have to do with the offense's new style. It also may have to do with the playbook's language. Grier had difficulty adjusting to that in 2019.
"This makes a little more sense to me to call the play, which frankly just makes it less thinking," Grier said.
But Grier knows his role is as a backup. So he sees it as his job to adapt to whatever starting quarterback Teddy Bridgewater likes to run on a week-to-week basis.
"Teddy is a very cerebral quarterback," Grier said. "(W)atching film with him, I've learned a lot about the way he thinks about the game and have been really impressed with the way he attacks the day, he attacks the meeting room. It's helped me a lot."
Grier has also picked up tips about being a backup from Bridgewater, who admitted earlier this month that he wasn't ready to take over for Drew Brees in New Orleans last season.
"It does back to the theme that you've got to battle with yourself every day," Grier said. "So the way I look at it is like, how can I continue to get better and continue to stay ready? Because you really don't know when your number will be called."
Head coach Matt Rhule has liked what he's seen out of Grier in camp. Rhule has mentioned that after coaching against Grier in college, he realized the quarterback has an "it" factor. That leads the head coach to believe Grier is capable of winning games at the highest level.
"I've liked his level of maturity. I've liked his work ethic. And most importantly, I've liked his ability to take responsibility when things go wrong," Rhule said. "I think Will has really grown in that phase where he takes responsibility for everything that he does, which allows him to get better.
"Where is he going to be in three weeks? Where is he going to be in three months? I think he's going to be in a really good place if he continues to stay on this very focused, very diligent path that he's on."
Grier knows there is more work to be done as he enters his second season, but he feels good about where he is right now. And after last year's struggles, he's at least in better headspace as a backup.
"You have to be ready. You have to always be preparing like you're going to play," Grier said. "That's easier said than done, but I think that's part of the process and part of my job here."
View photos from Saturday's practice inside Bank of America Stadium.