CHARLOTTE — Panthers interim head coach Steve Wilks might sometimes catch some people off guard with his tone.
But his players are getting used to the way he speaks to them directly, and if it's harsh sometimes, there's probably a reason for it.
After saying earlier this week he needed stars to play better, referencing wide receiver DJ Moore and linebacker Shaq Thompson specifically in remarks after the Ravens game, Wilks said there's a difference between having honest relationships in life and trying to cozy up to the people in the locker room.
"This is me. I think with anything in life, if you establish a relationship with someone, then you can be honest with them and tell them exactly how you feel," Wilks said Wednesday. "If there's no relationship there, my words are going to be taken the wrong way. But when you build a relationship, which I have with a lot of my guys, they know I'm going to tell them the truth.
"And one of the things I emphasize and talk about all the time is a friend or buddy. I don't want to be nobody's buddy. And you should not want a buddy. Friends are going to always tell you the truth; a buddy's going tell you what you want to hear. So no, I don't try to waver at all. Anything that I say to those guys, I say it in love; I say it because I want them to be the best at what they do. And they respond to the challenge. So I'm not going to sugarcoat anything."
Not every coach talks to players that way, and the men in the locker room can tell the difference in that friend/buddy distinction Wilks referred to.
"We know he's always going to tell us the truth," quarterback Sam Darnold said. "And there's power in that."
"You like that," defensive tackle Derrick Brown said. "Not playing mind games, he tells you straight-up, this is what I expect out of you, and this is what needs to be done. As a man, you've got to respect that. He's the coach, he's our boss. At the same time, he cares about what's happening with us. That plays a big part of it too.
"A soft-spoken man won't ever be respected. Got to be assertive. You're in a room full of guys that have achieved great things in their life. He always says the group travels at the speed of the leader. So that's what I think about when I think about coach Wilks. He's going to bring that fire and intensity every day. You've got to match it."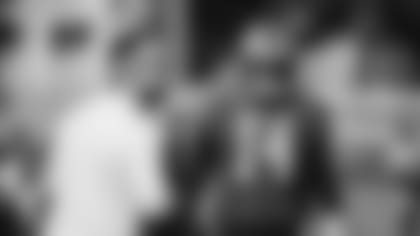 — Quarterback Baker Mayfield spoke with reporters briefly on Wednesday, a day after Wilks told the group that Darnold would start this week against the Broncos.
Mayfield said he was happy for Darnold, adding: "I support Sam fully. I respect him as a teammate, and he deserves to get a chance."
Of course, that change means he's going back to the bench after starting last week's loss to the Ravens and failing to get the team into the end zone. Mayfield's been around long enough to have an idea what that means for his future, at least his future here, but he handled himself well when PJ Walker was starting, and he said that wouldn't change now.
"There's a lot of things up in the air here for the future," Mayfield said. "I'm doing what I can, what I can control, and I know how my teammates feel about me and how I handled things here, so I can leave here with my head held high and understand I did everything I could.
"There's learning experiences everywhere you go. I'm looking at it, trying to find the positives, so yeah, it's going to help me in the long run. Did I draw it up this way, or think it was going to go this way? No. But you have to handle situations everywhere you go. It's never going to go as planned, and that's just kind of how this year's gone."
— Walker was back on the practice field doing some limited work on Wednesday and had a simple answer when asked how he felt.
"Blessed," Walker said. "Extremely blessed."
Wilks said it's not likely that Walker would be ready to go this week, after suffering an ankle injury in Week 10 against the Falcons. The plan is for Mayfield to be Darnold's backup Sunday.
"I'm not just fully confident right now in PJ being up this week," Wilks said. "I want to give him another week to fully recover."
— Wilks opened his press conference Wednesday by offering his condolences to the families of Chip Tayag and Jason Myers, the two WBTV staffers who died in Tuesday's helicopter crash alongside I-77.
"I would like to first say, my thoughts and prayers go out to the families and friends that were affected yesterday by the WBTV helicopter crash," Wilks said. "When you look at or hear (WBTV anchor) Molly Grantham talk about those two individuals, and how great of a job they did, but also just the men they were, the people. It just really makes you really think about life. And just cherish this time of the year with family and friends. So, again, my thoughts and prayers go out to them."
View photos from Wednesday's practice as the Panthers get ready to take on Denver on Sunday.