This time last year, the highly-rated tackle out of N.C. State waited to hear his name called from the green room at the NFL draft in Las Vegas, unaware that he'd soon be picked by his hometown team, Carolina. Ekwonu and a dozen loved ones sat in silence as he heard selections play out on a television. He chugged 19 bottles of water while waiting; it was something to busy his hands and shift his thoughts.
"Everything was dry – I was just anxious," Ekwonu said. "I wanted something else to focus on, so my mind just told me I was thirsty."
The Panthers' pick of the 2022 draft will be able to relate to C.J. Stroud, Bryce Young, Will Levis, or Anthony Richardson in an intimate way. All four of this year's consensus top quarterbacks will be in Kansas City tonight, going through the green room motions just as Ekwonu did – with a flight out to Charlotte on deck the next morning.
Those who have been there tell the story of an unusual environment; of painful minutes of clock-watching, a camaraderie built by shared, silent, waiting for a phone to ring, a brotherhood formed by strangers.
Ekwonu holds vivid memories of that fateful day last April, from getting the first in-person look of his custom draft day suit that morning to red carpet interviews in the afternoon and a post-draft media bonanza to follow. Ekwonu kept his mental clock ticking throughout the day, just like the one all 32 teams would be on later that night.
"It was just nerve-wracking, really, the whole time," he said. "Just thinking like, 'Man, T-minus however many hours, I find out where I'm going to go. There were a lot of what-ifs."
Ekwonu stepped onto a "beautiful" red carpet around the Bellagio Fountain, he recalled, alongside his mother and father. He met other prospects, including eventual teammate Matt Corral, went through some pre-draft interviews, and felt reality sink in when he walked into the green room setup.
That was the first time he saw the rest of his family and friends that day, including his brothers, sister, aunts, uncles, and high school wrestling coach. Ekwonu remembered how his loved ones took seats on two twin couches, but he got his own chair to await the news.
"I felt like a king," he said. "You're just sitting in your own chair looking at everyone in the draft theater."
Cameras buzzed around Ekwonu's room, including a Skycam, which drifted in and out of his space before he was drafted sixth overall. His green room was set up near Aidan Hutchinson, so when the defensive end (who he trained with) was selected second overall by the Lions, he got to congratulate him.
Ekwonu heard all the cheers from the first five prospects celebrating in their green room areas before the Panthers were on the clock at six. He remembered how it felt like the cameras were giving him more attention when the Texans came up at No. 3, and he said he wondered, "Do they know something I don't?"
"I wasn't sure how to act because the camera was just pointing at me the whole time," Ekwonu said. "So I'm basically watching myself not get drafted. The whole time was just surreal, really just thinking about next steps and everything like that. Just waiting, playing the waiting game. …
"You're watching the draft, and then you just hear people cheering behind you. It's like, 'OK, well, it's not me. Good for them. That's kind of what you think about. So it was pretty cool, seeing that, being in the room with all the energy."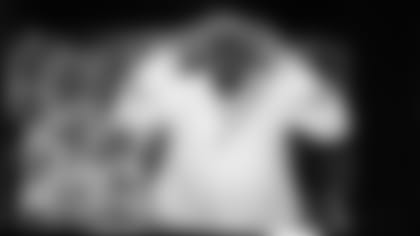 When the Panthers were on the clock, Ekwonu said he waited by his phone for what "felt like forever." And with five minutes left, he got the call.
"I kind of knew in my heart they were going to get me," he said.
Ekwonu mentally prepared for a long walk through a tunnel from the green room to the stage. He took in the Las Vegas theme of it all, with playing cards lining the walls. He knew he'd be on camera for the duration of his stroll, and the feeling was "hard to put into words."
At the end of the journey, Ekwonu grabbed his official Carolina hat, which he placed on the top of his head while gazing into a mirror. He said a camera in the mirror recorded his "last look" before heading on stage to shake Roger Goodell's hand.
"I just remember putting the hat on and just being like, 'Wow. Dang. I got drafted. It's crazy; I'm about to be coming home,'" Ekwonu said. "You do that, look in the mirror, make sure you're looking good. Then you walk on stage. It was cool to see the Panther fan section over there. …
"I found the Panthers' section first. They were cheering, of course. It was nice. I shook the commissioner's hand. He's like, 'Congratulations.' That was something that was cool. Like you see it on TV all the time. But you're just thinking, like, 'Dang, you're really on TV right now.'"
After snapping photos with fans, more media obligations followed. Between the interviews, Ekwonu said he had the chance to play a video game with himself as the Panthers' starting tackle, and he joked about how he kept running outside zone to his side over and over.
Two hours after the moment he was drafted, Ekwonu returned to his hotel room to get ready for his draft party. He said that even though time had passed since the selection, reality didn't sink in until he had a still moment at the hotel.
And that feeling led to the advice he'd give anyone drafted tonight, including the No. 1 pick to Carolina.
"I was chilling in the room by myself, like my ears are still ringing, my heart was beating still, but I was like, 'OK, yeah, I understand what just happened," Ekwonu said. "It took me a while to really process it, you know? Next steps. I'd say just enjoy that moment. Don't think too much about the future. Think about the moment. Remember how you got here. Think about your family. Embrace the moment a little bit. Don't be thinking about too many things at once."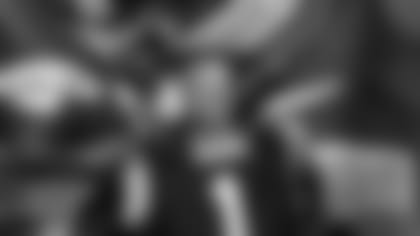 For Panthers outside linebacker Brian Burns, the 16th overall pick in the 2019 draft, there was a choice to make.
He had three custom suits prepared for his night in the spotlight, making a last-minute audible to the plum-colored one.
"I wanted to wear something nobody else was wearing," Burns said. "I had about two or three suits lined up ready. And I kind of just made a game-time decision the night of what I was going to wear."
The purple one didn't have to wait long, as he wore it for his press conference here at Bank of America Stadium the following day.
As for the experience in the room itself, Burns described the mood as "anxious" for the first few picks before a sense of calm fell over him.
"My draft was kind of just kind of strange, but I knew Carolina was the spot," Burns said recently. "I just had a feeling."
After he heard his name and got to go on stage to be greeted by the commissioner, take the pictures, and do the media rounds, he went back to the room, where Ole Miss wide receiver DK Metcalf was in for a much longer wait. Metclaf wasn't called in the first round at all, and ended up the final pick in the second round.
"I remember sitting with DK when he slid," Burns said. "Once I got picked, he congratulated me as me and my brother were walking up.
"And we were basically just telling him, bro, keep your head up. Because he was a little disappointed not going. But everything seemed to work out for him."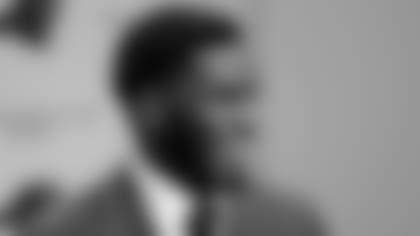 Other players find themselves hoping to hear something different.
Former quarterback David Carr, the No. 1 overall pick in 2002, joked that he had some uncertainty about where he was headed, until he recalled he had already bought a house in Houston and flew to New York on Texans owner Bob McNair's private plane.
But as he waited, others around him were even more unsure of their futures.
"Julius (Peppers) pretty much knew where he was going," Carr said of the second overall pick that year. "But I remember talking to Mike Williams, the tackle from Texas, and him saying 'I just don't want to go to Buffalo.'"
Of course, he went fourth overall to the Bills.
"He stood up, and he was faking the smiles and the hugs with his family," Carr said with a laugh. "And I just knew because, based on the conversation we had. It's a wild moment because you don't know we're going to spend the next five or 10 years of your life."
Of course, not every first-rounder experiences it at all.
Defensive lineman Derrick Brown, the Panthers' first pick in 2020, was back home in Georgia. That was the COVID-19 draft, which was conducted remotely, so the green room was wherever someone had a wifi connection for a Zoom call.
Former Panthers tackle Jordan Gross was invited in 2003, but stayed back at his duplex in Salt Lake City with some family members, opting for a lower-key experience.
Former Panthers running back Jonathan Stewart was back in Washington after having foot surgery, so he was in a large protective boot instead of a custom suit.
"I kind of thought to myself, oh, it would be really cool to be on TV and have the cameras following me throughout this process," Stewart said. "But it would also have been nerve-wracking.
"Just from the standpoint of, am I going to be the guy that's left? Nobody wants to be that guy."
Because if you sit there too long, there's no telling how many bottles of water you might drink.
We asked Panthers fans in Charlotte who they wanted with the first pick of the 2023 NFL Draft.