CHARLOTTE — The Panthers are still going to start Cam Newton at quarterback.
But Panthers head coach Matt Rhule said Monday that they still wanted to use PJ Walker at times, as they head into the final month of the season.
Newton and Walker each threw an interception in Sunday's loss to the Falcons, and Newton lost a fumble.
Those three turnovers were determinative, but Rhule said the plan was to continue to use both of them.
"We planned on playing P.J. in the game," Rhule said. "We had a package for him, and also planned on him playing in the two-minute. Obviously at the end of the half he threw the interception, which is unacceptable. At the end of the game, he threw us down there, we weren't able to get it in. Came back and made some nice plays to score the touchdown.
"We'll continue to play both guys."
Newton hasn't won any of the last three games he's started, after coming in for cameo appearances in his first week when they beat the Cardinals.
For the season, Newton's 44-of-75 passing (58.7 percent), for 467 yards, three touchdowns and three interceptions. His passer rating is 73.6.
Walker got credit for winning the start at Arizona, since he took the first snap and most of the work. For the year, he's 36-of-66 passing (54.5 percent) with a touchdown and three interceptions. His passer rating is 56.5.
And while you can't dismiss the turnovers — the Falcons turned them into 13 points in a game they won by eight — Rhule said he did see some signs of progress in the passing game.
With new play-caller Jeff Nixon at the helm, the Panthers moved the ball effectively at times (both of Newton's turnovers came after they had driven into Falcons territory). As a team, they were 21-of-35 passing for 253 yards, with a touchdown and the two picks (67.9 passer rating).
"I thought Jeff did a nice job yesterday," Rhule said. "I thought the tempo was there. I thought there were guys open. . . . I thought it was one of the better passing days we've had in quite some time.
"We'll continue to refine what we're asking of each guy, and I think in another week, hopefully we can play with that same sort of tempo we had, and just protect the football better."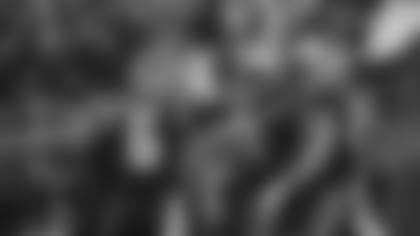 Rhule was asked if he'd consider going back to the early plan for Newton from the Arizona game, but he said Newton had shown progress in learning the offense.
"I think coming out of Arizona there was some conversation about that," he said. "We wanted to put Cam out there and really see the things he could do. And I think he's started the games off well. He's taking the ball down and scored on the first drive, and in Miami the second drive. . . . The first drive of the second half, he went right down the field and scored. It's the in-between areas and lulls. We dropped a snap on the second drive of the game, was about to be a good play, led to a three and out. Dropped a snap on the fumble. I think it's those detail things we have to clean up.
"In terms of the strategy moving forward this week, obviously, I'm not going to say too much. It's Monday, and Buffalo has to prepare for both guys. But I'm sure Cam will continue to play better and better and better, and P.J. is someone we have confidence in. So we'll continue to work both guys."