CHARLOTTE — Safety Jeremy Chinn missed the first game of his career in Week 9 but could be back as early as Sunday against the Buccaneers.
Chinn was inactive with a knee injury for the 33-31 loss against the Chiefs. He worked out before the game but ultimately couldn't play.
"Jeremy's an impact player," head coach Matt Rhule said Monday. "We're hopeful that he'll be available this week.
"The fact that I thought maybe he'd play in the game in some sort of a role would lead me to believe that maybe he has a chance this week. But those knees, it comes down to swelling and all those different things. And sometimes it's out of our control. So I'll see tomorrow and Wednesday if he's able to do anything Wednesday at practice."
Without Chinn and his versatility to play multiple positions, the Panthers had to use more defensive backs than usual. With Rasul Douglas and Donte Jackson playing the whole game, cornerback Corn Elder was on the field for a season-high 79 percent of the team's defensive snaps. Cornerback Troy Pride Jr. (17 snaps) and safety Myles Hartsfield (six) also received playing time.
Jermaine Carter took Chinn's place in the starting lineup as a linebacker, playing 30 snaps. He finished with three total tackles.
"Jermaine Carter, I thought, really stepped up," Rhule said. "Jermaine played a really good game. Showed up in the run game."
One area where the Panthers missed Chinn was in defending the Chiefs' star tight end. Travis Kelce had season highs in receptions (10) and yards (159). It's only the third time in his career he's eclipsed 150 yards receiving and the first since Dec. 2018 when he had 12 receptions against the Raiders.
"We just tried to mix it up," Rhule said. "But typically, when we played the good tight ends we played earlier in the year … we've either played (Juston) Burris or Chinn on the tight end for the most part. So obviously both of those guys being out for the last game, we had to adapt."
Burris is eligible to come off the reserve/injured list this week after sitting out the last three games with a ribs injury. Starting the season's first six games, Burris recorded two passes defensed and an interception.
"We'll see what the medical people say in terms of if he's ready to come back or not," Rhule said. "We'll probably know more on Wednesday."
Also on the injury front, running back Christian McCaffrey is day-to-day with a shoulder injury. And while Sunday's starting left tackle Dennis Daley exited after quarterback Teddy Bridgewater's 15-yard run on fourth-and-14, Daley was cleared to return. But offensive line coach Pat Meyer felt Trent Scott and Greg Little were able to move better at that point in the game, so the club kept Daley on the sideline.
Sunday's game was the first time all season that offensive coordinator Joe Brady called plays from down on the sideline instead of up in the coaching booth. Rhule said Brady wanted to get down to the sideline to improve communication with the quarterbacks, linemen, and skill players.
"It's something that I thought was a good idea and that Joe eventually was comfortable with," Rhule said. "It's a little more hurried, a little more harried down there. There's a lot of things happening. When you're up in the box, it's a lot more calm and peaceful. So I don't know if it affected anything else other than just a little more energy."
Bridgewater liked having Brady down on the field, praising his calm, even-keel demeanor.
"That was good for me — we were able to communicate instead of having to get on the headset," Bridgewater said. "He's able to see the game at field-level, so he's able to go down and talk to the offensive line, talk to the receivers and things like that. So I think it was pretty good for him to be down there."
Rhule said the plan is for Brady to continue to coach from the sidelines.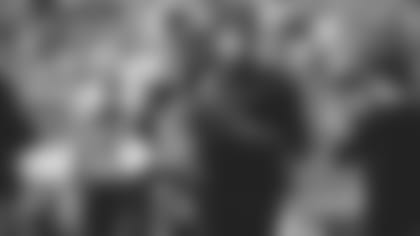 Wide receiver DJ Moore has been plenty productive this season, as he's currently second on the team with 640 yards receiving and leads the Panthers with three touchdown catches. But Sunday, he was targeted a season-low three times and made only two catches for 18 yards.
"I don't think that was planned," Rhule said. "I'm sure he's frustrated by it. There were a couple times on the headset I heard Joe say, 'Hey, alert the go ball to DJ,' and they played Cover 2. So times we tried to get the ball down the field to him, it didn't break his way.
"Obviously, he's a big part of our offense. We need to have him involved, and we weren't able to do that yesterday."
Still, the Panthers had one of their most productive days offensively, finishing with 31 points, 30 first downs, and 435 total yards. Of the Panthers' top three receivers in Week 9, McCaffrey caught all 10 of his targets. Wide receiver Curtis Samuel caught all nine of his targets for a career-high 105 yards and a touchdown, while wideout Robby Anderson tied a career-high with nine receptions for 63 yards.
"Like I've said, every week, it's going to be a different person making plays for us," Bridgewater said. "One week, DJ might catch nine passes for 120 yards. The next week, Robby might catch nine passes, Curtis might catch nine passes. So those guys understand each week, a different guy's going to make plays for us."
Carolina has plenty of weapons to move the ball, and Bridgewater feels they're all unselfish enough to handle the situation.
"There's only one football, so those guys, they're out there, they're competing at a high level," Bridgewater said. "At the end of the day, the only stat that really matters to those guys is the wins and losses."
View the best photos from behind-the-scenes of the Panthers-Chiefs game in Week 9 in Arrowhead Stadium.