The second-year starter had his spot solidified, for one, anchoring his place at left guard in 100 percent of the Panthers' offensive snaps this year after playing multiple positions as a rookie. And one of the most impactful aspects of his own development is the fact that he's surrounded by just as much stability.
Tackles and guards Ikem Ekwonu, Christensen, Austin Corbett, and Taylor Moton have played every single offensive snap together through Carolina's first 16 games of the season, and they're on track to continue that streak at New Orleans. The starting offensive line's only substitution came at center, where Bradley Bozeman replaced Pat Elflein in Week 7, and has started 100 percent of snaps since he got the starting job too.
"I think one of the biggest things up front, as an offensive lineman, is to have that trust with the guys next to me," Christensen said. "And I think that's the biggest difference from this year to last year; you know exactly what each guy's going to do before he even makes calls or anything else. And that helps us to be one unit out there. It's just huge."
That kind of continuity is rare, and it has been especially welcome following a revolving door with injuries and various combinations along the Panthers' line in 2021. They used 13 different combinations of starters in 17 games last year, rarely knowing from week to week who'd be next to each other.
And with all the changes happening around Carolina's offense, from multiple quarterback transitions to trading their best player and bringing in an interim head coach, the stability up front helped establish the physical identity interim coach Steve Wilks looked to bring to life.
Wilks credited offensive line coach James Campen for keeping the offensive line fresh and backups prepared in case they did need to lean on their depth, which includes swing tackle Cameron Erving, guard Michael Jordan (who started 10 games last year) and versatile rookie Cade Mays.
"It meant a lot; when you look at the success that we had this year, a lot of that is predicated off those guys up front, so you can spread it around," Wilks said. "And who gets the credit? Starting with coach Campen, he does a tremendous job in really rotating those guys, trying to keep them fresh, giving different guys looks, just in case other things come up, and guys have to be able to fill in and play. He's done a great job with that, but also just Taylor Moton, Bozeman, the leaders up there, Corbett, all those guys have done tremendous."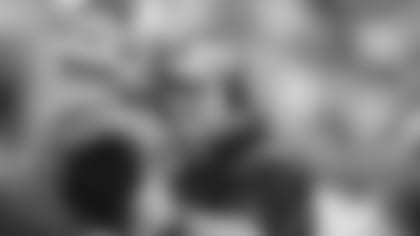 Locker room leader Moton is on his way to finishing his third-straight season without missing a snap, while Corbett has added veteran experience beside him one year after winning the Super Bowl with the Rams.
Corbett said he's only experienced similar stability one other time in his five-year NFL career – during his rookie season with the Browns in 2018.
A combination of chemistry and veteran leadership helped the right guard transition well into the league, and he has watched a similar story unfold with rookie left tackle Ekwonu.
"I think any time, as a younger player, when you can get experienced vets around you – that was certainly the case for me," Corbett said. (A) plethora in Cleveland, with Joel Bitonio, JC Tretter, Kevin Zeitler, then go to LA and have Rob Havenstein, Andrew Whitworth, just guys that have played thousands and thousands of snaps, and just to be able to pick their brains. Like (Ekwonu) is doing exactly that. It's just absorbing everything you can, going to benefit him immensely down the road."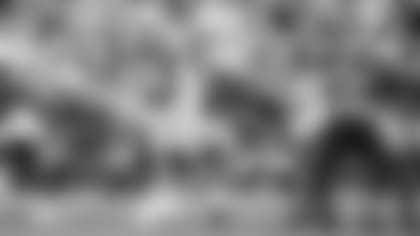 Christensen said he has learned alongside Ekwonu, and the pair are setting up a future reminiscent of the Travelle Wharton-Jordan Gross duo that worked together for years at Carolina.
"It's been awesome to be able to learn and grow with him," Christensen said. "We're both young in our positions and young in the NFL, so to be able to just discuss and be like, 'OK, this is what I'm seeing here.' Our communication, just to be able to grow together, has been huge."
Corbett said it naturally takes time for an offensive line to gel – generally around 6-8 weeks together to start working in unison – so getting the kind of continuity they've had makes it all come together that much stronger.
"Going through training camp, going through these games, and when you're sitting and watching the games together, watching film together, you really just start speaking the same language, breathing, and just all in unison," Corbett said.
The Panthers' offensive line took on a physical personality on the field, but Christensen said they've let their "goofy" personalities show throughout the season, which has helped them bond off the field.
From the jest around their "Arby's" package with eight offensive linemen (said Christensen: "We have the meats") to playing comically large ping pong with pizza peels gifted by quarterback Sam Darnold in the locker room, a bond has been formed.
The Panthers' stability along the offensive line this season has been a good thing for a lot of reasons, and it isn't the kind of thing you'll see all the time.
"Across the league, it's pretty tough to have an offensive line be like that," Corbett said. "When you're able to get that, guys understand how their body moves, how each other moves, how you communicate. And it significantly allows you to play faster. (You) don't have to think; you just go play. It really is a special opportunity to go out and finish the season getting that done."