CHARLOTTE — Panthers center Bradley Bozeman can't wait to get back in a huddle or a meeting room with all his old friends. They've got a lot to talk about.
So much so they might start talking about it in a different language.
Bozeman kept using the words "awesome" and "amazing" when he described returning to the Panthers on a three-year contract — which means the entire starting line will be together until at least 2024 — because he knows this is rare and gives them a chance to change some things as well.
"To have that cohesiveness we had last season, to be able to build together for the next few years is great," Bozeman said, moments after signing his new deal Thursday. "It's really hard to get all five guys back every year, so that's a huge opportunity for us.
"I feel like with this group, having that kind of communication, the end of last year builds into this year. So we'll pick up from there and continue to add to the list of things we can and can't do."
Specifically, that includes being able to mix up the way they call things at the line of scrimmage, adding a layer of complexity to what was already a good group. Bozeman said when you're playing against a smart veteran defensive lineman — he mentioned Pittsburgh's Cam Heyward as an example — they can pick up on the smallest things, like the code his opponents use to communicate intent.
"If we know they know our calls, we'll completely change everything," Bozeman said. "For example. Cam Hayward, you know he's locked into the calls. He studies film, and he listens to the TV edit; he knows all the stuff. So you know he's going to be keyed into those calls.
"Now, we can mix that up."
Since Bozeman gets to continue to work with left guard Brady Christensen and right guard Austin Corbett for a second year in a row, their familiarity allows them to expand on the ways they do that. That might mean relying on nonverbal cues, changing the phrasing they'd normally use, or saying words that don't mean anything at all.
"So if you're playing next to the same guy for weeks or years, you know exactly what you're doing," Christensen said. "So you can limit your calls, you can make dummy calls, you can make all these different calls to confuse the defense.
"When you and your buddy are on the same page, that's the biggest thing, to be able to play little mind games with the defensive linemen."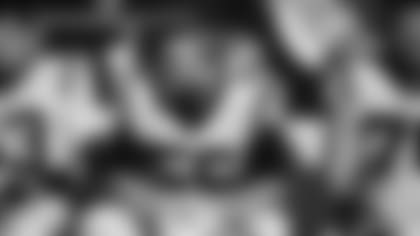 That's one of the subtle things they look forward to, but some of the benefits are overt.
Last year's line and run game took off in October, a timing that effectively coincided with Bozeman's inclusion into the starting lineup. The Panthers ranked fifth in the league in rushing yards over the final 12 weeks of the season and allowed just 17 sacks over those final 12 games, tied for the third-fewest in the league over that span (Bozeman started the final 11 games of the year).
"Every time you come into OTAs or training camp, everybody's new," Corbett said. "You saw that last year, everyone was new together, and it takes time. We weren't necessarily struggling early, but just understanding calls and knowing each other and how he blocks and his techniques, to be able to pick up where we left off last year, the momentum we'll have will be incredible. Stoked to be able to keep us all around. That's everything you can ask for in football."
Since they know there's a new quarterback on his way here with the first pick in this year's draft, having that foundation is even more important.
And while the linemen enjoy being able to provide that kind of stability and build on the cohesion they developed last year, they also know it's rare.
The Panthers used 13 combinations of starters on the offensive line in 2021, so using just two last year (and never changing once Bozeman took over in the middle) was rare in and of itself. But carrying that over into the next year, knowing that tackles Ikem Ekwonu and Taylor Moton are entrenched and under contract as well, also creates a unique opportunity.
Granted, Corbett's status for the regular season opener is up in the air because of his torn ACL in the regular season finale, but he's here and is expected to return close to that time, and the rest of the group is intact. Corbett laughed and said that in the NFL, "change is the only constant," mentioning that this was the first time in his career he's known where he'd be going into the following year. He practiced at all five spots in Cleveland, got traded midway through a season to the Rams, was the starting center an entire offseason before Brian Allen returned from an injury, and has flipped sides throughout his career.
"To be able to find some consistency is incredible," Corbett said. "I didn't even know what side I was playing one year to the next, to be honest with you.
"This is the first time it'll be consistent, so I'm stoked for that."
For example, the Panthers had a different starting left tackle every year since Jordan Gross retired after the 2013 season (a condition Ekwonu was drafted to fix). They haven't walked into a season with the same expected starting five from the previous year since 2008 and 2009, and that's only happened twice in franchise history (along with 2001 and 2002).
But beyond the players themselves, knowing line coach James Campen is back is also an integral part of that. When an offensive coaching staff turns over the way this one did, players know that could have changed, but hanging onto Campen — widely regarded through the league as one of the top teachers of the position — was important to his guys.
"That was massive," Bozeman said of Campen being retained by head coach Frank Reich. "That was one of the reasons I came here originally. And to hear that he got brought back was a great feeling. Knowing I was coming into the situation I came into last year, same coach, same amazing linemen in that room, just so excited."
That's one way of putting it. And since they speak each other's language already, they can continue to come up with new ways to say it as well.
View the best photos of center Bradley Bozeman and his family on set on Thursday.