LOS ANGELES — There were things about the last 48 hours that felt very different, and very strange, for the family of former Panthers linebacker Sam Mills.
But surrounded by this year's class of Pro Football Hall of Famers, and being different than most of the rest of the room, felt very similar to what they've always known.
Melanie Mills, the widow of the Panthers legend, admitted feeling a little unsure, until the group including Tony Boselli, LeRoy Butler, Bryant Young, Richard Seymour, and Dick Vermeil offered her a familiar comfort. Having Elaine Anderson, the sister of the late Raiders receiver Cliff Branch there to stand beside her on stage Thursday night only added to the feeling.
"It was like family," Melanie Mills said Friday morning, still registering the impact of the NFL Honors ceremony from the night before. "I was backstage, and I was nervous. But to hear football talk was like the second language in the house, so that comforted me. They loved Sam, and you can feel that love, and it's transferred to me and I appreciate that."
Of course, not everything about the event felt like home.
As she was introduced to the crowd by Sam's former Saints teammate and Hall of Famer Rickey Jackson, a screen flashed 15 seconds of highlights from his days in New Orleans. When she returned to her seat moments later, her son pointed out something was amiss.
"That was the first thing I said when she sat down was, 'Where was the Panthers stuff?'" Sam Mills III said. "That's the first thing."
"We might need to send them a note for the future," Melanie said with a bit of a laugh, but serious enough that you realize she's not kidding even a little.
Sam Mills played nine seasons for the Saints, finishing up his career with three years playing for the Panthers and then coaching until his death in 2005. So while the majority of his playing time was in another place, the family was clear that while fanbases might get possessive, this time they're going to have to share.
"I made a point to both sides," Sam III said. "If anyone says he's ours, no, he's both. He's literally both."
With his induction to the Hall of Fame, he also belongs to the game at large now.
Hall of Fame president Jim Porter, who called Sam Mills III to share the news of his father's induction recently, said he's loved getting to know the family in recent days.
"Sam was such a high-integrity guy, high character," Porter said. "Any time you have that, it helps the game, it helps the Hall."
He also noted the possibility of divided loyalties, saying the recent enshrinees like Peyton Manning had to balance it as well.
"Well, you know, I'm not an expert, but you could ask fans in Indianapolis and Denver how they shared," Porter said. "Sam had a big enough heart, there's enough heart to go around for both those cities."
Porter said that was evident in the respect the other players and the coach showed during events leading up to the ceremony.
"I think Melanie was probably a little emotional when we first met. But the guys went up and showed her great respect," Porter said. "I love this class, because they are so humble and so caring. Not that other classes haven't been, but just immediately you could tell. They embraced her as soon as she walked in the room. They didn't know her at first, but when I took her over, they all just circled around. It was pretty cool."
Melanie Mills described the scene as "surreal, ... and wonderful," and knows that in the coming months leading up to the August induction, there will be more such events, more opportunities to celebrate her late husband's legacy.
And that's a message she's happy to share.
Melanie Mills said that as hard as it might be to imagine, there was never a moment when she thought her late husband wouldn't find success on the field.
Not when he went to Division III Montclair State because he didn't have a bigger offer, not when at 5-foot-9, he was cut by the Browns or the Toronto Argonauts of the CFL, and not when he was teaching photography and shop class at East Orange High School in New Jersey.
"No, I never did," she said. "I never ever did. I've known him since he was 15. He's always had this vision. I was there for it. I was proud of it, I admired it, and I always thought he would be successful. . . .
"And his confidence is what pulled him through and made him successful. I hope other, ... well, . . . height-challenged men will tap into that, and know that there's no limitations to you. You only limit yourself."
And now that Mills is in the Hall of Fame, his story, and the legacy of Keep Pounding, will continue to be heard.
Sam III, now an assistant coach for the Washington Commanders, has felt the impact of those words around the league.
"I mean, you come to realize, New Orleans has 'Who Dat,' and the Panthers are 'Keep Pounding,'" he said. "You can go anywhere in the United States and yell that, and they know who you're talking about and where you're from, and that's major."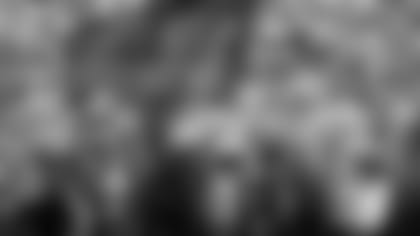 But beyond his inspirational story, the recognition from the Hall of Fame also cements Mills' legacy as a great player.
His classmates recognized that quickly.
Boselli was in his second year in Jacksonville when he played against the Panthers in 1996, and recognized how difficult Mills was to prepare for.
"He obviously wasn't a big guy as far as height, but he was so smart," the legendary Jaguars left tackle said. "The anticipation of what you were trying to do was what made it so hard to block him. A lot of times if you go out there, you gauge the guy you're playing against, 'Oh it's not going to be hard to go block this guy.' And then all of a sudden they're quicker than you can get there, because they read, they're so smart. That was Sam Mills.
"And that was a great defense. They had a lot of veterans in that Panthers defense, and he was their leader. He was really dang good."
Butler, the Packers safety who faced Mills and the unlikely Panthers in the 1996 NFC Championship Game, pointed to the impact Mills had on future linebackers, such as too-short fellow finalist Zach Thomas.
"Sam Mills is the reason why one day Zach Thomas will be here," Butler said. "Because Sam Mills . . . showed kids, maybe going to the combine you're not 6-4, 220 pounds, but you can still play, whatever size you are.
"And Tony hit it, he was smart. It was funny how quarterbacks used to try to audible to get him out of the box, and he was going nowhere. Because he knew the formation, he knew what was going on, and at that point, he gets into attack mode.
"But the reason why he is amazing, and people like Zach Thomas are going to follow him up is you don't have to be a certain size to play in this league. You just have to be smart, and aggressive and great teammates, and just want to do it. That's what Sam Mills was all about."
And now, he's a part of the family of the greatest football family ever assembled in Canton.
And his own family feels perfectly at home.
View photos of Sam Mills during his time as a player and coach with Carolina.