INGLEWOOD, Calif. — For fans in the Carolinas, the legacy of Sam Mills was going to live forever anyway.
Now, the entire football world gets to share in it.
Mills, the former Panthers linebacker and assistant coach, the first player inducted into the team's Hall of Honor, and the only player whose number is formally retired by the team, now has a new line in his bio.
Sam Mills is a member of the Pro Football Hall of Fame.
Mills was announced as a member of the Class of 2022 Thursday night, part of an eight-man group whose names can't be separated from the story of the game, and whose bronze busts will now watch over football history for generations to come.
Mills was elected in his third and final year of eligibility as a modern candidate.
He's joined in this year's modern-era class by Jaguars offensive tackle Tony Boselli, Patriots defensive end Richard Seymour, Packers safety LeRoy Butler, and 49ers defensive tackle Bryant Young. Also elected were former Eagles, Rams, and Chiefs coach Dick Vermeil, officiating pioneer Art McNally, and former Raiders receiver Cliff Branch from the senior committee.
For each of them, there's a constituency that remembers their highlights and their success, or the way they changed the game.
For Sam Mills, and for the Panthers, it runs deeper than anything he did on the field, though.
"Sam Mills is the greatest Panther ever," longtime wide receiver Steve Smith Sr. said. "Simply put, he established the standard for everything that came here after him. He did that on the field with the way he played, and obviously made the same kind of impact off the field.
"Look at his journey. He made an impact everywhere he went."
Mills was never the prototype for anything, at 5-foot-9-and-change. All he did throughout a 15-year professional career was continue to prove doubters wrong, and create something out of nothing everywhere he went. After failing to latch on in Browns' camp or in the CFL, Mills was teaching photography at a New Jersey high school when he tried out for the USFL's Philadelphia Stars.
He signed a contract in a van parked by the side of the field that day, and went on to change football history. His coach in the USFL, Jim Mora, would call Mills "the greatest player I ever coached." Mora also coached Peyton Manning.
Mora would take Mills with him to New Orleans in 1986, and in nine years, Mills led that team to a respectability it had never known. The Saints never had a single winning season before he got there. Mills and the rest of the Dome Patrol defense would make them almost a playoff regular.
When he came to Carolina in 1995, it was an unlikely pairing, an aging linebacker with a just-born franchise, but they quickly became inseparable.
His leadership made an immediate difference, and in just their second season, the Panthers made it to the NFC Championship Game.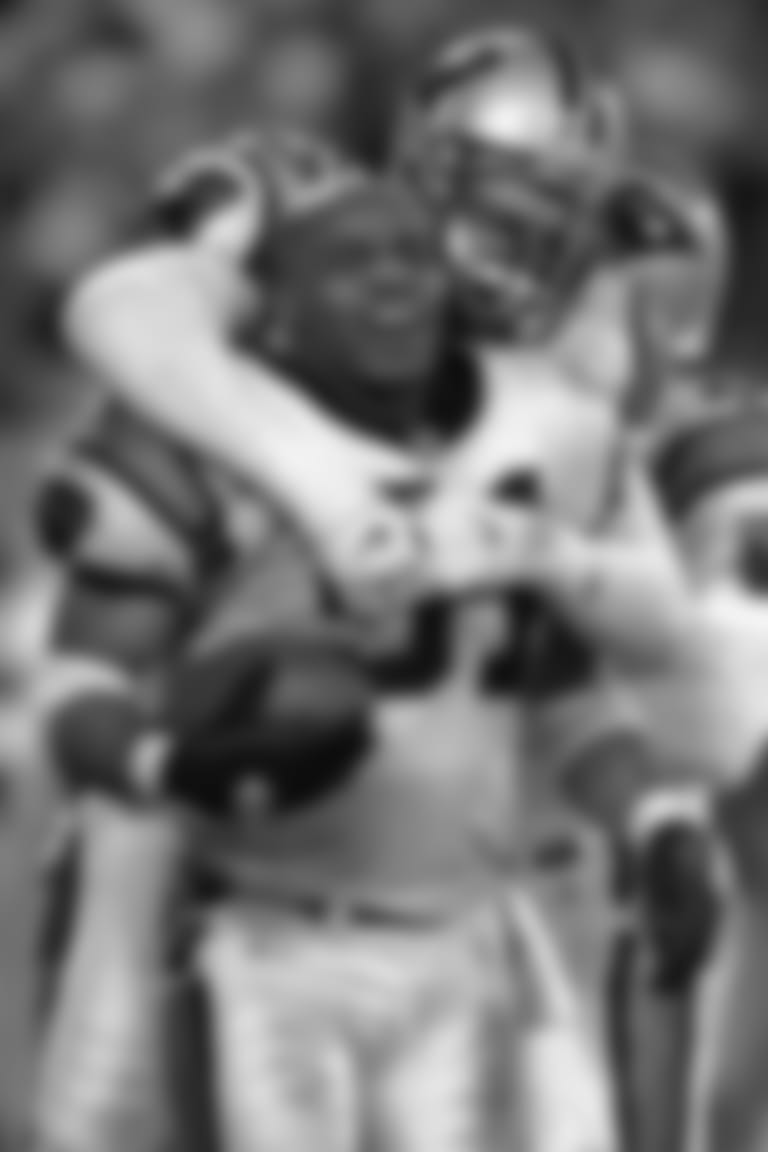 "What Sam brought to the Carolina Panthers was the strength of his winning ways, and that was because of what he did, not what he said," said Brett Maxie, who played with him in both New Orleans and Carolina and got his coaching start alongside Mills with the Panthers as well. "Sam was a thermostat, not a thermometer. You could sense the temperature change in the room when he walked it.
"He changed the narrative of what it took to win in the NFL, for a player, and for a franchise."
Mills joined the team as a coach after his retirement following the 1997 season, and continued to make his presence felt. He mentored many players, passing along the lessons learned in a football life. And after his cancer diagnosis in 2003, he gave the team a simple message and echoes through the years.
That speech didn't exist to make Mills into a sympathetic figure. He didn't want that. This was about the team, as it always was with him. What he wanted to do was remind that team that the only way to get over something was to go through it. That continuing to work, continuing to fight, every day, was the only way. That together, they could do anything.
To this day, that message is stitched into the collars of the jerseys the Panthers wear.
But more importantly, Mills has become woven into the fabric of a community.
Mills continued to fight cancer until his passing in 2005. And while he's gone, his memory remains fresh in the minds of so many Panthers fans. He was what they were from the beginning. This wasn't supposed to be. He took them to places they had never been. He led, unselfishly, to his final day. Now that his journey continues to the Pro Football Hall of Fame, the place where they "celebrate excellence everywhere."
The Hall's mission statement lists the values the institution is built on:
That sounds a lot like what Sam Mills stood for his entire life.
"This is a great day for this franchise," Panthers owner David Tepper said. "When I got here, I knew Sam was a great player, but I didn't realize how deeply his message resonated with fans across both Carolinas. There's a determination, a spirit of not ever quitting, no matter what the odds, that embodied what Sam Mills was all about. That's on the field and off the field. Having him represent this team in the Hall of Fame feels right, and we can't wait to celebrate with his family."
That celebration starts tonight.
And for the Mills family, and all the people who cheered for him and were inspired by him over the years, that celebration will continue.
View photos of Sam Mills during his time as a player and coach with Carolina.