SPARTANBURG, S.C. – Tommy Tremble knows it only takes a minute or two out of his day to make someone else's brighter.
He's had his day made by a professional athlete before.
In 2014, Tremble attended his first NFL game at Bank of America Stadium. He and his father, Greg Tremble, went to see the Seahawks play the Panthers.
Then a Seattle fan, the future Panthers tight end had the chance to chat with Russell Wilson for a few minutes after the game. Greg said the Trembles had a family friend on the Seahawks' coaching staff, and Seattle's stars helped create a core memory for Tommy.
"I remember distinctly, like it's a picture in my mind, where I was getting my iPod signed by Russell Wilson, and Marshawn Lynch signing my dad's shoe," Tommy said. "(We looked) just for anything he could sign."
At this year's camp, it's likely you'll see Tommy as one of the first Panthers to walk up to the line of enthusiastic Carolina fans, cheering for their favorite players in the heat of a Spartanburg afternoon with arms outstretched for signatures – and one of the last to leave.
"I never find that it's too much to do that," Tommy said. "It takes literally 10 minutes of my day to get through like 100 people. I love doing that stuff. It's my favorite part, honestly, about this practice, so reaching every kid, everyone that comes out and supports us, it's awesome."
The second-year Panther has taken in the fan experience during this year's training camp. Tremble, like any of the rookies in 2020 or 2021, had yet to have the chance to sign autographs after practice due to COVID-19 protocols.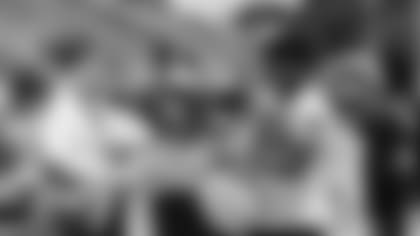 Greg remembers how Russell Wilson's autograph lingered in his son's mind long after he got the quarterback's signature.
"Tom talked about that for the next year," he said. "It was every day. He woke up, looked at it, (was) going to school looking at it. It was a very exciting time that he never forgot."
Tommy said his favorite moment in the first week was spotting a young fan with a Notre Dame lunchbox – a piece from his alma mater – in the long row of loud and excited fans.
"I was like, 'Oh my gosh,' because it's only me and JJ Jansen here from Notre Dame," he said. "I thought that was awesome that he would've brought that lunchbox and I was able to see it. It was really cool to see."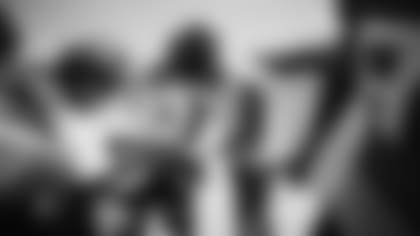 Now that Tommy is on the other side of the autograph, he's creating more memories during camp.
"Some people come out there during training camp, this may be their only access to the Panthers – not during the season or anything like that," Greg said. "I think he's cognizant of that."
An Atlanta native, Tommy remembers going to a Falcons training camp once with his dad. He said catching a glimpse of players like Julio Jones in practice was the "coolest thing ever" for him.
And these days, Tommy gets to play a part in Panthers fans' "coolest" memories.
"It's really just a blessing," he said. "I'm blessed to be out here. I'm happy I can make an impact like I can, and it makes my job just 10 times better."