CHARLOTTE — It's about to get real.
All the changes the Panthers have planned and executed over the last six months will become tangible when players report to training camp at Wofford College starting Tuesday.
It's been a busy offseason, as the team kept some foundational players, added multiple parts across the roster, and adjusted the coaching staff after a pair of five-win seasons.
While it's not yet August, and the Panthers still have plenty of questions to answer, the team appears to be in a more stable place than it was at this time in either of the last two years.
Here's a look at the top storylines heading into camp:
Perhaps you heard something about it this offseason, but the Panthers were active in the quarterback market.
They drafted Matt Corral in the third round to add an asset for the future and then traded for Baker Mayfield earlier this month to bring in more immediate help.
Mayfield will compete with incumbent Sam Darnold for the starting job, and has a chance to win it outright if he can learn a new playbook in days that Darnold's been processing for months.
Mayfield, the former No. 1 overall pick in the 2018 NFL Draft, has a lot to prove, but has also proven himself at a level no one else on this roster has. He led the Browns to the playoffs after the 2020 season, and to their first postseason win since 1994.
He had to take a pay cut to come here, and is on a one-year deal just like Darnold, so he's walking in the door motivated.
No matter who is at quarterback this year, he'll have a greater chance for success.
The Panthers got the highest-rated player on their draft board, when left tackle Ikem Ekwonu fell to them with the sixth overall pick.
The hope is that he'll provide stability at the most important position on the line, which the Panthers haven't known in nearly a decade. They've started 16 different left tackles since Jordan Gross retired following the 2013 season, none of them for more than 19 games.
If Ekwonu can make the position his own, they've done plenty to solidify the rest of the line around him and right tackle Taylor Moton. Brady Christensen, last year's third-round pick, should start somewhere, and the free agent acquisitions of Austin Corbett and Bradley Bozeman should provide an immediate boost.
A year ago in camp, head coach Matt Rhule compared his offensive line to Interstate 85 on the way to Spartanburg, saying it was "under construction." The project might not be complete yet, but there appear to be fewer potholes.
The Panthers lost a couple of veteran leaders in free agency, with cornerback Stephon Gilmore going to the Colts, and outside linebacker Haason Reddick going to Philadelphia.
Replacing them will fall on a number of younger players and those trying to fight for bigger roles.
The secondary remains deep, after they brought back cornerback Donte Jackson. With 2021 first-rounder Jaycee Horn healthy again and CJ Henderson feeling more comfortable after coming over in a midseason trade, the Panthers still have plenty of top-shelf talent at the position.
Replacing Reddick is more complicated, as there's no like-for-like alternative on the roster. They're hoping Frankie Luvu can bring some of his trademark energy in an expanded role, and that Yetur Gross-Matos can stay on the field and develop (which could also help the run defense).
They added interior pass-rusher Matt Ioannidis on a one-year deal, which should help if he returns to pre-injury form (he had 16.0 sacks in 2018 and 2019 with Washington), and linebacker Damien Wilson gives them a bigger presence in the middle.
There's still some uncertainty about roles, but they're hoping to continue the progress they made last year on that side of the ball. The Panthers finished second in the league in yard allowed last year, but Rhule said he wants to see improvements in their red-zone defense, and to create more turnovers this year in an effort to "go from good to great."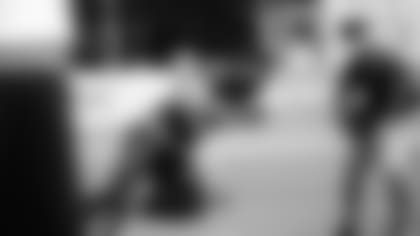 The best news of the offseason might have been about a couple of guys the Panthers are already familiar with.
Running back Christian McCaffrey is healthy and ready for camp, after a frustrating year in which he was limited to parts of seven games. The offensive issues last year coincided with his injury in Houston in Week 3, and like the line upgrades, he gives whichever quarterback a better chance to succeed.
The Panthers were also able to keep wide receiver DJ Moore, extending their own ahead of free agency.
Moore has been one of the most consistent producers in the league, despite less-than-ideal circumstances, and keeping him was one of the first big moves of the offseason.
If you want to talk about drafting and developing players, then keeping them when they emerge into stars is a key component of any long-range plan.
Last year obviously didn't go the way any of them anticipated, so it follows that changes were coming.
New coordinator Ben McAdoo has been given the keys to the offense, and has more to work with than his predecessor. If he can match his previous success as a play-caller in Green Bay and New York, it will go a long way toward stabilizing things on that side of the ball.
The Panthers also brought in a number of other high-level assistants, from offensive line coach James Campen to secondary coach Steve Wilks to special teams coach Chris Tabor, so the staff has more than twice as much experience as Rhule's first staff here in 2020.
They still have plenty of questions to answer over the next month (Is there a complementary pass-rusher to Brian Burns? Can Robbie Anderson bounce back, and can they find a reliable third target in the passing game?).
But those questions are what camp is for.
And when players start rolling in Tuesday, it will be time to start answering them.